AthleticRUNMEET Change Log
Coming Soon
Sessions. On the Events tab of the Manage Meet page, events are now organized under "sessions" -- a sub-grouping of events, e.g., "Day 1 Distance Events". Sessions will be integrated into RunMeet, allowing users to focus on smaller groups of events for timing, inputting results, printing reports, etc.
Entry Parsing. Currently, to use RunMeet, users must also use AthleticNET for registration. We're working on a feature to import athletes, entries, and events from other registration systems, via an entries (text) file.
December 2022
Feature - Combined Team Scores. A basic option for showing combined team scores. In the Scoring settings, users may check "Show Combined Scores." If checked, combined scores -- the total scores of all divisions combined, for each gender -- will be published along with the scores for each division.

November 2022
Feature - Team Position Assignment (Team Lanes). Users can create a team position assignment configuration, which reserves start positions for designated teams. Users can apply a configuration to any number of events. If applied, an event will follow the configuration when seeded.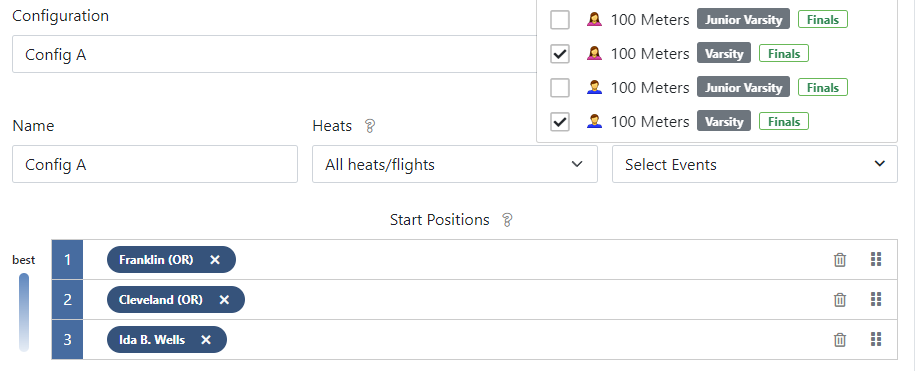 October 2022
Feature - Add New Athlete. New athletes can now be added in RunMeet. Clicking 'Add Athlete' from from Athletes page opens an 'Add Athlete' modal, where users can add athletes by filling in the required fields. In the Add Athlete modal, users can edit entries for any athletes they've just added.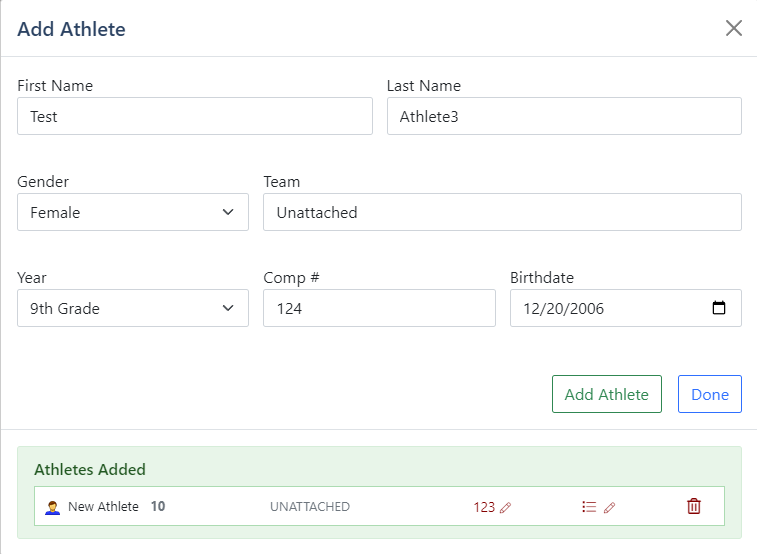 August 2022
Feature - Edit Lane Preferences. Users can edit the order of lane assignment used for seeding laned races. For example, the default order for 8 lanes is 4-5-3-6-2-7-1-8. Using drag-and-drop, this can be changed to 5-4-6-3-7-2-8-1, or whatever order is needed.

July 2022
Feature - Pick Break Points. Users can select break points between heats/flights when seeding an event. "Pick Break Points" can be turned on or off for classes of events (lanes, waterfall, alleys, and field) or individual events (in the settings for each event).

---
How helpful was this article?
---