Edit Team Alignment
Maintaining the classifications for every team in the country is a huge task, and we couldn't do it without the help of coaches like you! If you notice an error, you can help us fix it.
Watch a 60-second video on editing team alignment:
To access the team alignment editor, click on your name in the top right corner and then click  Dashboard. From your dashboard, click either Track & Field, or Cross Country, and then select the appropriate category (High School, Middle School, Club, or Collegiate).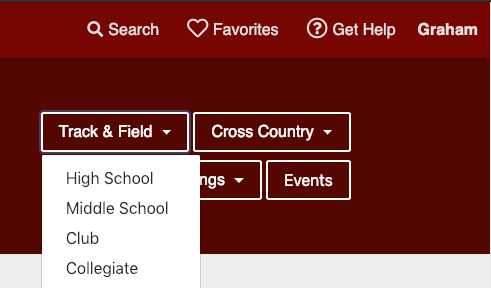 Click on the state or region you'd like to edit, then scroll all the way to the bottom of the page and click Coaches, help update team classifications .

At the top of the page, select the correct season. Alignments can and do change from season to season.

On the right-hand panel, expand the division tree to find the division you need to edit.
Once you've found the correct division, click on the division heading. All teams in the division will be displayed in the left-hand panel.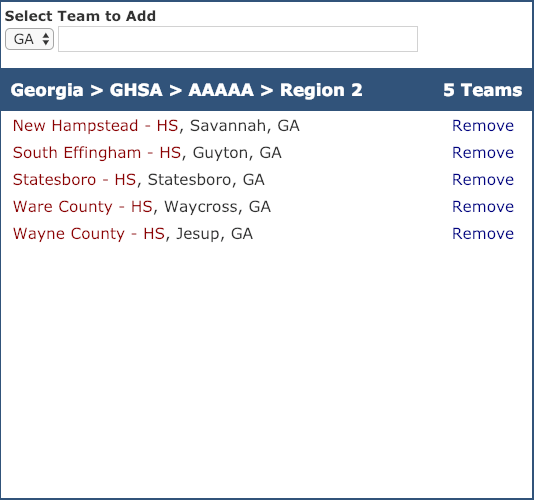 To add a team to the division, start typing the name of the team you are adding. When the team's name appears, click it to add it to the current division.
It is not necessary to remove a team from the old division before adding it to a new division. The team will be removed from the old listing automatically.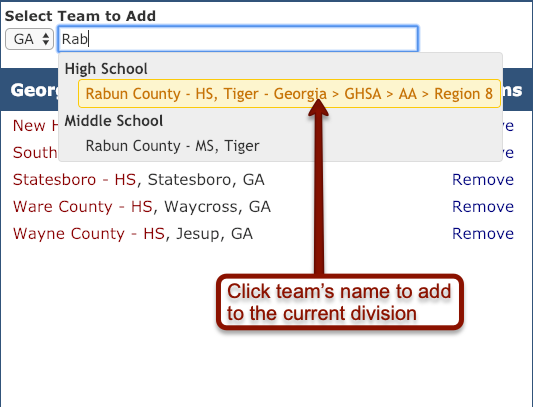 The Remove button should only be used if a school has closed. If a team is changing divisions, it's much more helpful to find the team's new division and add the team to the new division.
---
How helpful was this article?
---