Upload a Cross Country Event List with Meetpro
Uploading a list of events to AthleticLIVE from your meet management software is a requirement for several functions to work. It is good practice to do so as a part of your setup for every meet. This article will walk you through uploading an event list from MeetPro for an XC meet.
Before uploading XC events from MeetPro, you'll need to ensure the following:
Ensure all of your events have a custom name defined in MeetPro. Otherwise, the event names will be mismatched.





In

Reports



Report Settings

, ensure that

Show Event Numbers

is checked.


From the menu bar, navigate to Reports  Entries  By Event.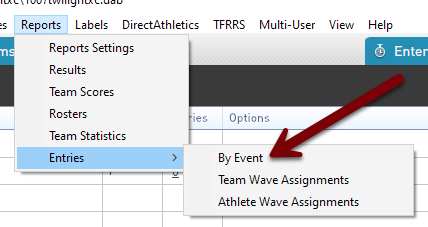 Configure the options as shown here: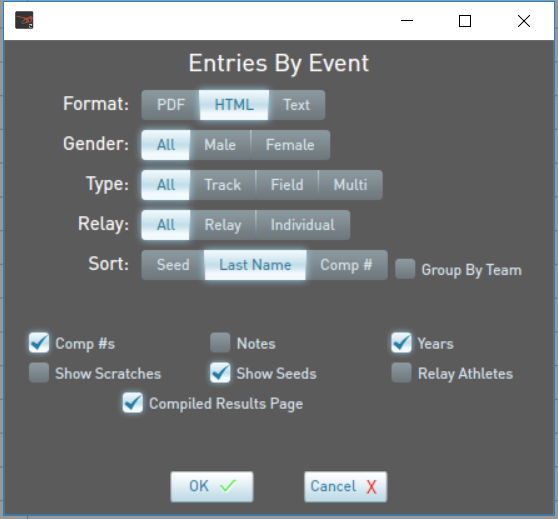 Click OK. The report will open in a browser window. Once the report is displayed, either right-click and choose Save As... or use the CTRL+S shortcut key to save the report to a location on your computer.
From the AthleticLIVE Meet Administration Portal, select  Upload Events.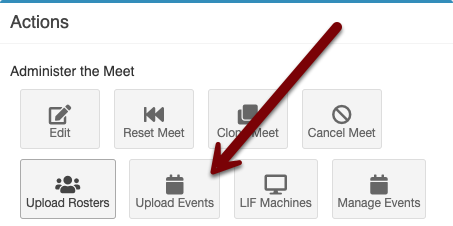 On the following page, select Choose File, and select the file you just saved. Your events will be visible on AthleticLIVE shortly thereafter.
---
How helpful was this article?
---