Become an Athletic+ Member
Athletic+ is the premium account for the individual. Whether you're looking for unlimited rankings, an ad-free viewing experience, or instructional videos, becoming an Athletic+ member allows you to make the most of your Athletic.net experience!
Features include:
Unlimited rankings:
You can view all athlete standings on a local, regional, state, or national platform. You can sort by level, location, league, season, and more. View thousands upon thousands of athletes in the national rankings with no limits.
Full AthleticTV membership:
AthleticTV is the largest collection of instructional videos for coaches and athletes on the planet, with hundreds upon hundreds of videos for all kinds of sports.
10% discount on a Runnerspace +Plus
Exclusive contests, deals, and perks
Yearly subscribers get an exclusive Athletic.net hat sent during December.
Signing Up for Athletic+
Signing up for Athletic+ is quick and easy. From the top right corner of the screen, click on your initials or picture, then click on  Upgrade to Athletic+.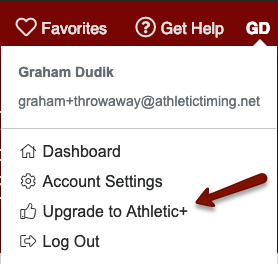 On the next page, click Purchase Now at the bottom.

Select whether you'd like to pay monthly, or yearly. Yearly subscribers get a significant savings! Enter a coupon code if you have one. Once you've made your selection, choose Continue to Checkout.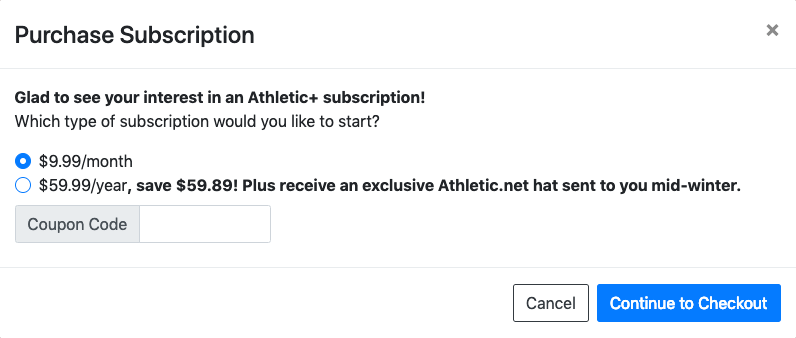 Enter your credit card info, and then click Charge Card . You'll be emailed a receipt. Your credit card will be securely stored and automatically billed every month or year, depending on your subscription type.
If you choose a monthly subscription, your card will be billed on the same day of the month that you made your original payment. If you choose a yearly subscription, your card will be charged on the anniversary of your original payment. If you need to modify or cancel your subscription, see
Modifying or Canceling a Subscription
.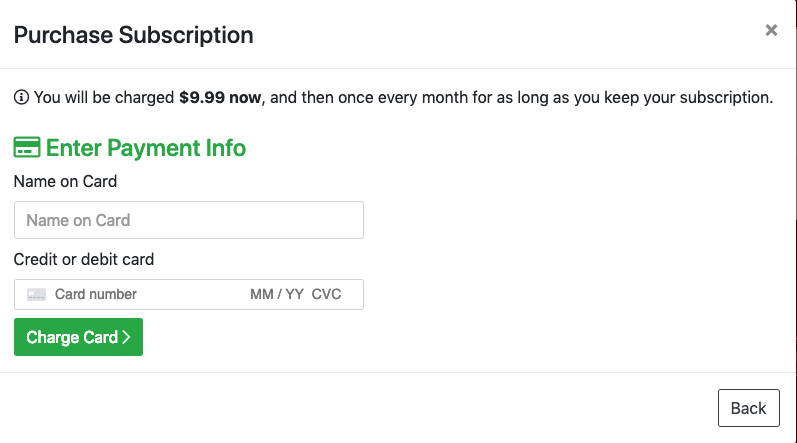 You're done! Enjoy all the benefits that Athletic+ has to offer!
---
How helpful was this article?
---