Merging Duplicate Athletes
Sometimes, if meet results are uploaded to Athletic.net, a duplicate athlete can be created in the Athletic.net database. This often happens when an athlete registers for a meet using a different name than they are listed under on the team roster (i.e., the athlete is listed as John Davidson on the team's roster, but the meet host records results for him under Johnny Davidson), or if an athlete competes for two different teams (such as a club team and a school team).
In order to fix the duplicate athletes, the first step is to open both athlete bio pages. The quickest way to find both athlete bios is to use the search bar at the top of the page. You'll want to open the two athlete bio pages in separate browser windows or tabs.
Please note that Athletic.net administrative staff can only merge athlete profiles that contain results. Empty profiles cannot be merged. What this means is that if you've moved to a new team, you'll have to wait until after your first meet results have been posted before you can request the merge.
To narrow your search to include athletes only, enter a: in the search box before your search query. For example, typing a: Eisenhower will only show athletes named Eisenhower, and exclude the (numerous!) schools named Eisenhower.
On the athlete bio page you want to keep, click  Suggest a Correction, and then click  Athlete has two bios.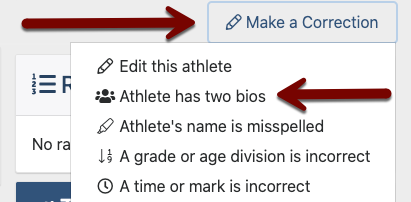 Now go to the athlete bio page which is the duplicate and look at the URL in your browser.

You'll see that the duplicate athlete's unique ID number is listed. Copy all the numbers listed after AID= to the clipboard (CTRL+C for Windows computers, ⌘+C for Apple computers). On most computers and browsers, double-clicking the AID number will select just the number itself, without anything extra.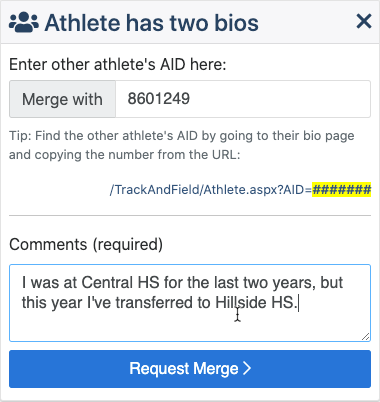 Back on the bio you want to keep, paste the duplicate athlete's ID number into the Merge With box (CTRL+V for Windows computers, ⌘+V for Apple computers). Enter comments telling Athletic.net support staff which bio should be kept, as well as other pertinent information regarding the athlete. Provide clear, concise comments regarding the merge. When you're done, click Request Merge .
---
How helpful was this article?
---