Uploading Cross Country Results #6: Publish
On the Upload Results page, once you have uploaded your results file, matched divisions, verified team and athlete matches, checked your events, and confirmed your meet's timing method, you can move on to the Publish tab. On this page you will publish the meet results so that they can be viewed on Athletic.net.

Once you click Publish, Athletic.net will automatically calculate team scores based on the data contained within the results. If don't want to display team scores within the results, click Remove All Team Scores. You can also select distinct scoring configurations for each race division, and remove individual race divisions' scores (e.g., you're scoring the high school races at a meet, but not the middle school races).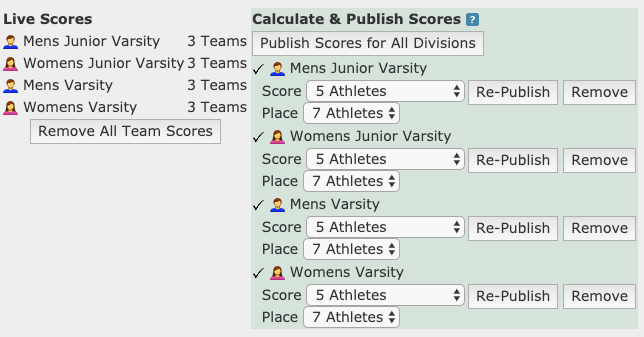 Once complete meet results are published, you can make the results Official by clicking Mark Official.

Marking the results as official will:
Will mark results as OFFICIAL.
Other coaches may substitute names, but not modify marks.
Prevents other coaches from modifying divisions.
Note - as a host you can edit any team's results from the Result Editor.
You can also change the results back to Unofficial by clicking Remove 'Official' Status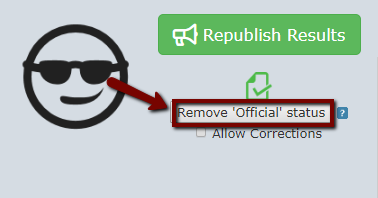 Removing the Official status will:
Remove 'Official' status from results.
Allow coaches to modify results & divisions.
For more information on the difference between Official and Unofficial results, click here.
Once your results are published, Athletic.net admins will review your upload and notify you if there are any errors or missing results.
Site supporters receive expedited reviews of their uploaded results!
---
How helpful was this article?
---