Paying Fees (For Athletes and Parents)
Athletic.net has partnered with Stripe, an industry-leading online payments processor, to offer parents and athletes a no-hassle way to pay fees associated with team membership. Fees such as team dues, uniform or gear fees, travel fees, and other fees that coaches or team managers set up can easily be paid via Athletic.net's secure online payment portal.
If you know that your team is going to be collecting fees via Athletic.net, you can make the process simpler and easier by claiming your athlete profile on Athletic.net. This will provide the coach or team manager with your contact information so they can quickly send you invoices. In addition, claiming your athlete profile provides you with a host of other Athletic.net features! See
Claim Your Athlete Profile
for more information.
Viewing Invoices
If you've claimed your athlete profile, you'll be able to see both paid and outstanding invoices from your team(s) on your account dashboard. To access your dashboard, log in to Athletic.net and click on your name in the top right corner, then click  Dashboard.
Under My Unattached Athletes, there is a box labeled  Team Fees. This will show any invoices, both paid and unpaid, that have been assigned to this athlete. To view an unpaid invoice, click on Pay . To view a paid invoice/receipt, click on  Paid.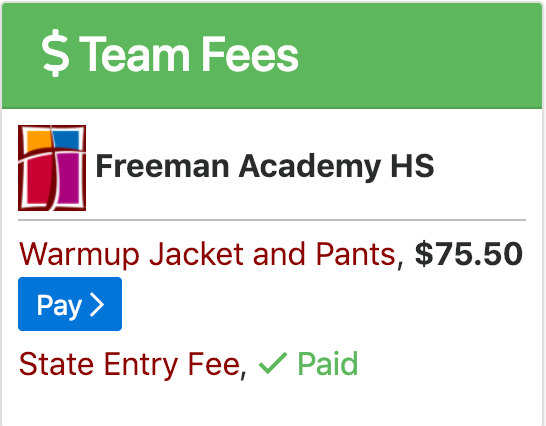 Your coach or team manager also has the option to notify you via email for any outstanding fees that you owe to the team. If your team notifies you of a fee, you will receive an email to that effect, inviting you to view the invoice.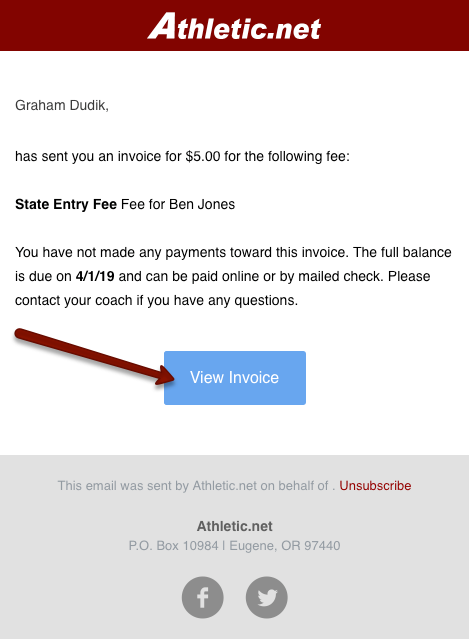 Paying an Invoice
Clicking on View Invoice in the email or Pay  from your user dashboard will take you to the invoice page. Here, you can see the charges, payment information, and contact information for the coach or team manager who is collecting the fee. Depending on the options the coach or team manager has configured, you will see options to pay by credit card, check, or both. If the coach or team manager has configured the credit card service fees to be paid by the athlete, you will see the service fee listed on the invoice as well.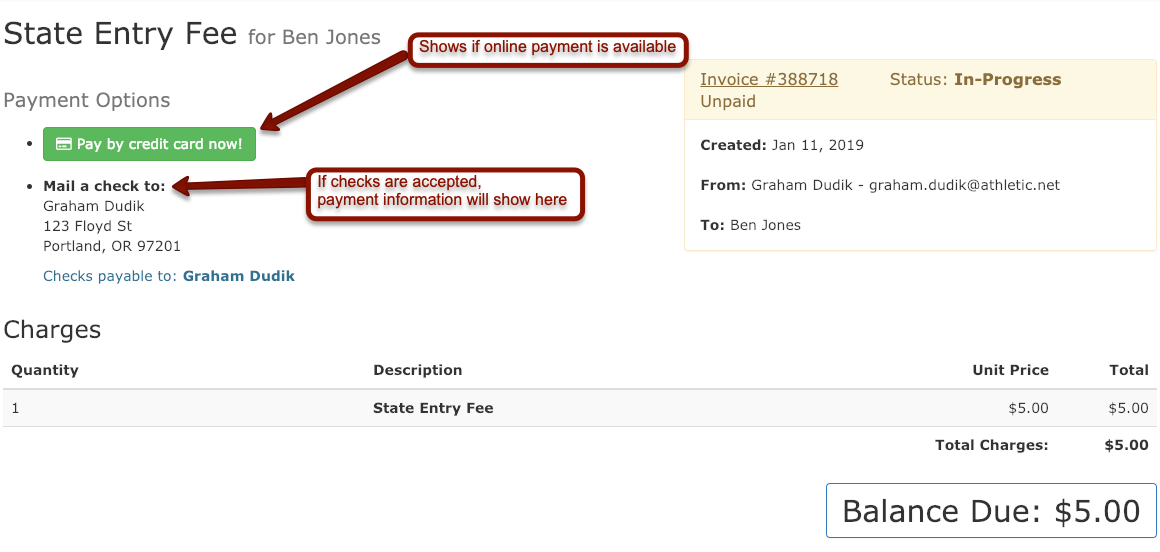 If payment by check is available, you'll see mailing information and to whom checks should be made payable. Mail the check with an appropriate amount to the address listed. Once the coach or team manager receives and processes your payment, your invoice will be listed as paid.
If you're paying by credit card, click the  Pay by credit card now! button. You'll be prompted to enter the name on the card, credit card number, and other information, such as expiration date, card verification code, or billing zip code. If you'd like to save this credit card for future payments, check the box. When you've entered all the correct information, click Charge Card . A receipt will be sent to the same email address that the invoice was sent to.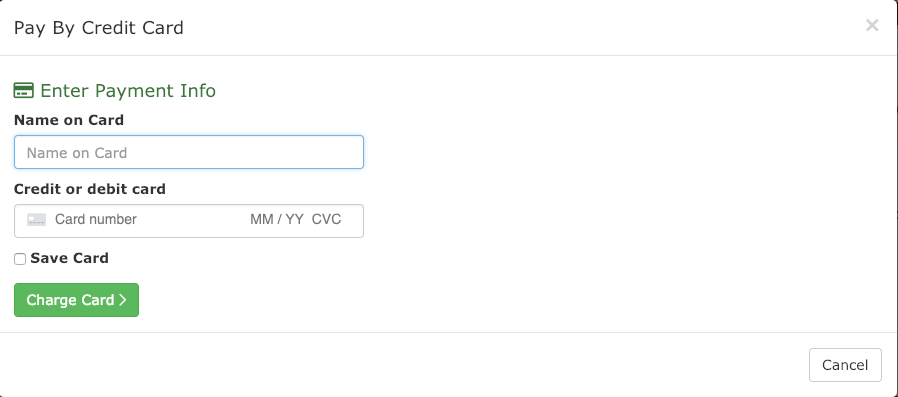 ---
How helpful was this article?
---