Configure a Mobile Scoreboard with FlashTiming
This article explains how to send scoreboard data from FlashTiming to AthleticLIVE. Turn everyone's phone into a online mobile scoreboard.
Requirements
The following software is required to connect FlashTiming with AthleticLIVE.
FlashTiming FT-FAT software for the FT-FATLS Plus and FT-FAT200 systems. Users may download the latest version from the website, FlashTiming.com. Click on Downloads from the main menu bar and then Updates.
Create a meet on AthleticLIVE.

You will need a Professional Credit or a Standard w/ Track Scoreboard credit.
Select FlashTiming in the "F.A.T. Timing System" dropdown.
Step 1 - Enter Credentials
From the FT-FAT main screen:
Click the menu icon in the upper left.
Click Displays in the menu.
Select AthleticLIVE in the drop-down menu.
Enter the IP Address, Results Port Number and Key provided by AthleticLIVE. Note: Clock Port is for displaying the running race clock on AthleticLIVE site. This feature will be available in a future release.
Click OK.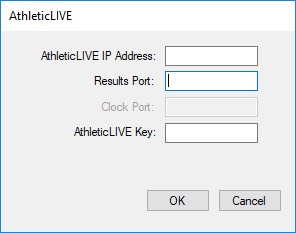 Step 2 - Display Setup
In the Display Setup window:

Check Entries to have the ability to send entries to AthleticLIVE.
Check Results to have the ability to send results to AthleticLIVE.
Check Save Results on Save if you want to automatically send results to AthleticLIVE when you save the results for a race.

Click OK.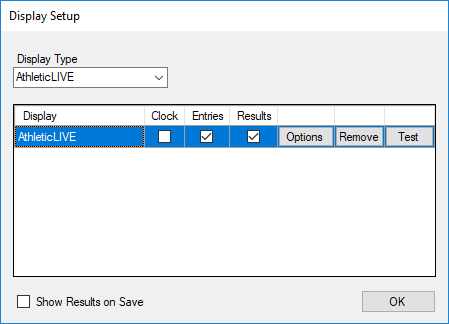 Step 3 - Send Entries to AthleticLIVE
Click on the Scheduled Events Tab.
Click the Event in the list.
Click the List button in the toolbar.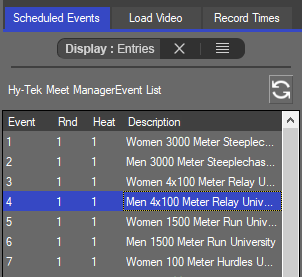 Step 4 - Send Results to AthleticLIVE
Click the Record Times Tab.
Click A in the tool bar to automatically send results to AthleticLIVE whenever a time is entered in the result table.
Click the List button to send the current results to AthleticLIVE.
Times will automatically be sent to AthleticLIVE when the Save Times button is clicked if the option was selected in the Display Setup window.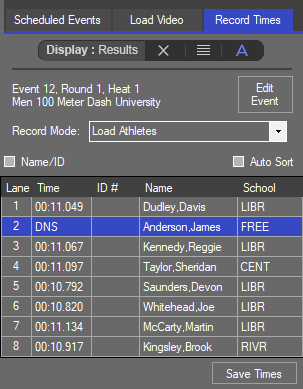 ---
How helpful was this article?
---