Create a Meet
Creating a meet on AthleticLive is the first step in getting your live results in the hands of your meet's fans. Creating the meet adds it to the AthleticLive calendar and configures all the preliminary settings necessary to create the best experience possible for your viewers.
Start by going to admin.athletic.live and sign in with your AthleticNET account.
Once you're signed in, click  Create a Meet to get started.
Details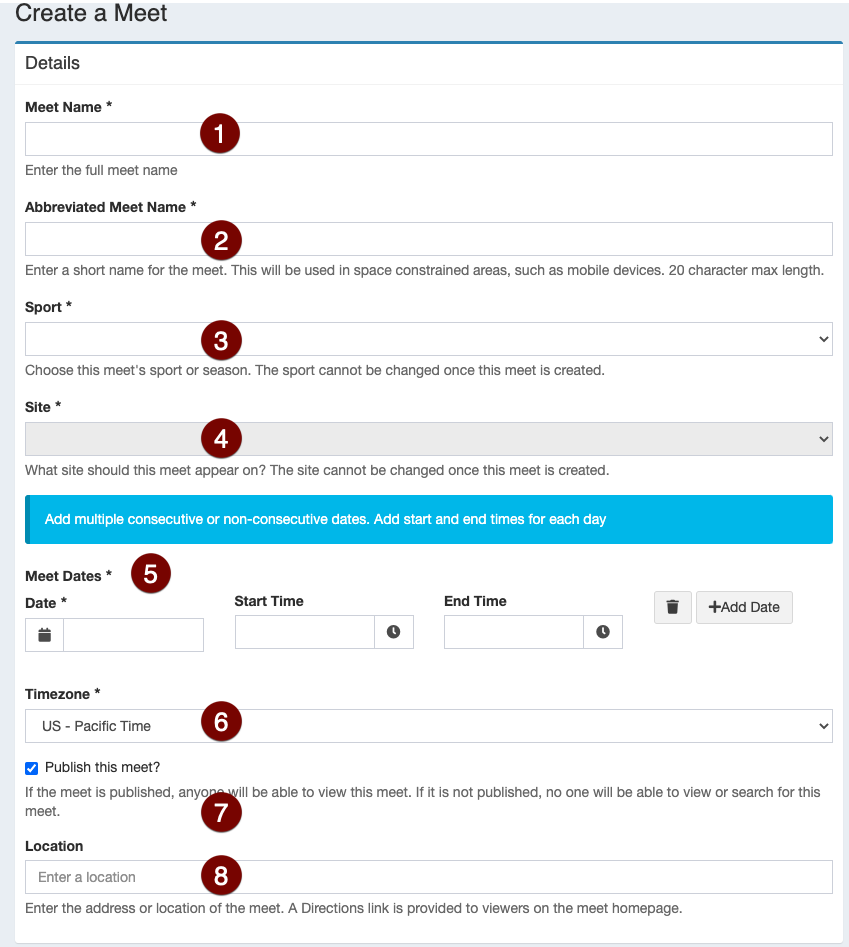 Meet Name: This is the official name of the meet.
Abbreviated Meet Name: A short meet name that is no greater than 20 characters. This will appear as the meet title on mobile screens.
Sport: Is this an indoor track meet, an outdoor track meet, or a cross country meet?
Site: For most users, your only choice will be AthleticLIVE. If you have an Enterprise account, you may choose your site name to include the meet on your Enterprise website.
Meet Dates: Enter each day the meet will take place. Use the  Add Date button to add a new day. If you are competing on non-consecutive days, do not include the day you aren't competing. (e.g., If you're competing on March 1, March 2, and March 4, only include those days. Don't create an entry for March 3.)
Timezone: Choose the meet's timezone.
Publish this Meet?: Check the box to list the meet on AthleticLIVE. You may wish to refrain from publishing the meet until a certain day or time in order to avoid revealing heat sheets or performance lists.
Location: Enter the location of the meet. This field will autocomplete as you begin typing.
Connect this meet with Athletic.net

Once you enter a sport, date, and location, a dropdown box will appear with matching AthleticNET meets. Select your meet if it's in the list. Otherwise, you can enter the AthleticNET meet ID manually by choosing that option from the drop-down.
Connecting the meet with Athletic.net will show a live results link on your AthleticNET meet page and allow you to display team logos and indicate athlete PRs and SRs as they happen.
If you're collecting entries on AthleticNET, check the Use AthleticNET entries? box. You'll need to do this in order to display athlete PRs and SRs.
Find the Athletic.net ID
To find the Athletic.net ID, go to the public meet page (not the Manage Meet) of your meet on Athletic.net. For example:
The meet ID is the number in the URL of the Public Meet Page. In this example, the meet ID is 359028.
Select a Meet Credit
In this section, you may choose an existing meet credit or purchase a new one. Depending on the selected credit, you may select the software your meet will use to send data to AthleticLIVE.
Live Scoreboard
Some meet credits allow access to a live track scoreboard that will show a start list and results as they are evaluated from within your FAT software. This allows you to display finish times the moment you evaluate the image in your FAT software, rather than waiting for the entire heat's results to be processed through your meet management software and then uploaded.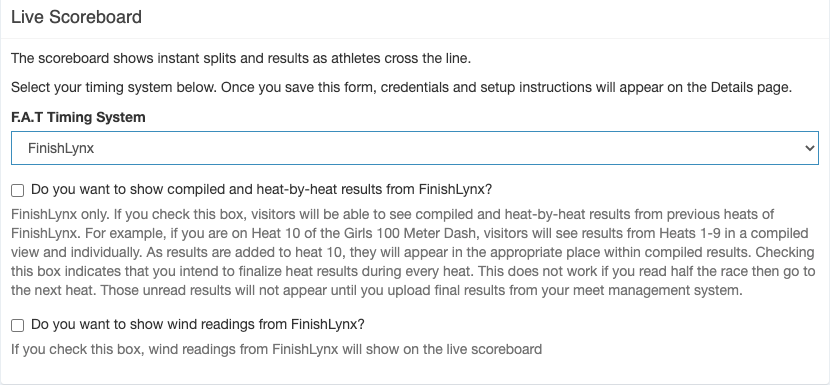 If your meet credit contains a live track scoreboard, select your system from the drop-down menu. We currently support FinishLynx, Flash Timing and Eagle Eye.
Compiled and heat-by-heat results from FinishLynx
If you're using FinishLynx, you have the option to show compiled and heat-by-heat results from FinishLynx. Once a heat ends, the heat times will be saved directly from FinishLynx and continue to be available for viewing, instead of disappearing. Additionally, a compiled set of results will be built as the event progresses.
You can only use this option if you plan on finalizing the heat results before the next heat begins. If you only have half the results for a heat evaluated, and plan to return to the event to finish evaluating it later, some results will not appear until you upload final results from your meet management system.

Note that results uploaded from your meet management software will override results provided by FinishLynx
If you have a wind gauge connected to FinishLynx, check Do you want to show wind readings from FinishLynx? to show the current wind reading on the scoreboard.
Related Articles:
Time Trial Mode
If you're running a Cross Country Meet and using FinishLynx LIF scoreboard, you have the option to enable time trial mode. This selection interfaces with FinishLynx's Time Trial plugin to allow you to do wave starts and display running times for each wave. See Time Trial Running Time with FinishLynx.
Live Running Time

If your meet credit allows a live track scoreboard and you use FinishLynx or EagleEye, you can show the live running time to your viewers. See Scoreboard Running Time with FinishLynx for more information.
Live Field Scoreboard

If your meet credit contains a live field scoreboard, you can provide live field standings to your viewers. Standings update after every attempt.
From the dropdown, choose either the AthleticFIELD App, or FieldLynx, depending on which field results software you're going to use. Depending on which software you're using, you'll see different options displayed.
AthleticFIELD
Use the AthleticFIELD App to deliver real-time field results from Android or iOS devices at each field event. You can even use AthleticFIELD to run in-venue scoreboard displays.
Check Do you want to show wind readings? if you'd like to display collected wind readings on the live scoreboard for applicable field events.
FieldLynx
You can also integrate FieldLynx with AthleticLive Local to send results to AthleticLive
If you want to show live field series on the field scoreboard, use the Show field series on live scoreboard? checkbox.
If you want to show generate standings from LFFs instead of the FieldLynx scoreboard interface, check Show flight and overall standings from LFF Data.
Check Do you want to show wind readings? if you'd like to display collected wind readings on the live scoreboard for applicable field events. In order to use this, you must show live field series and generate standings from LFFs.
Related Articles:
FTP Result Uploads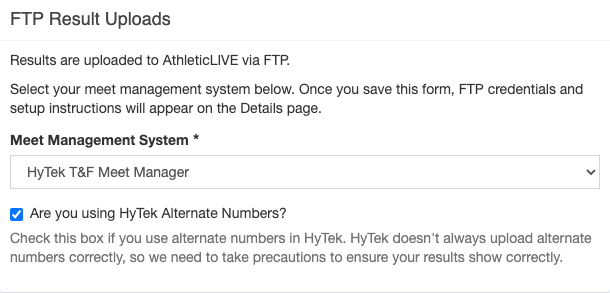 With a few exceptions, all entries, heats, and final results are uploaded to AthleticLIVE from meet management software via FTP. Choose your meet management software from the dropdown menu.
For Track and Field, we support:
HyTek's Meet Manager
MeetPro
For Cross Country, we support:
Hytek's Meet Manager
MeetPro
Race Director
RunScore
If you're using alternate event numbers for your sessions in Hytek's Meet Manager, check the box underneath the dropdown menu. Otherwise your results might not appear correctly.
Divisions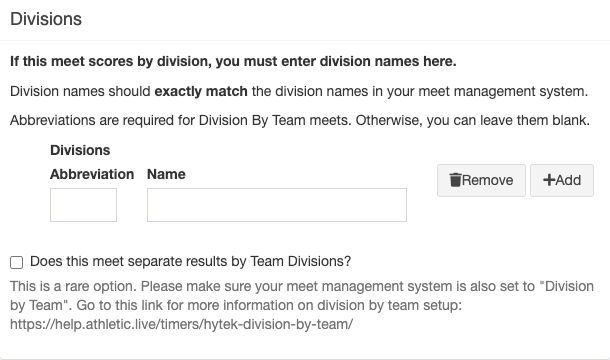 If your meet has divisions (e.g., Varsity, Junior Varsity), you must enter them here. If you do not, data will not be uploaded to AthleticLIVE correctly.
To add the first division, click the [ + ] button. For each subsequent division, click  Add. Enter the abbreviation and the name of the division exactly as it appears in your meet management software.
Team Divisions
A very few meets separate teams by division so that certain teams are only scored against each other (e.g., schools of the same size only compete against each other at a large meet). If your meet is separating results by team division, check the box. Enter each division, including abbreviation, exactly as it appears in your meet management software. For more information, see Configure HyTek Division by Team meets.
Timer Information and Results Questions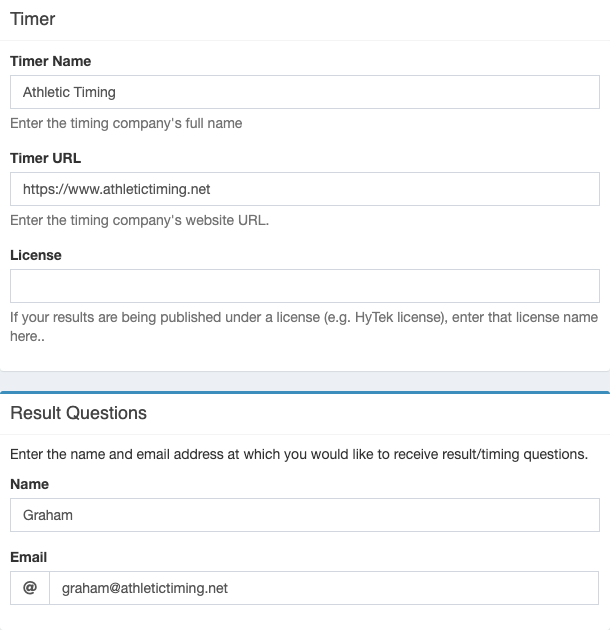 Enter timer information into this section. Timer data will appear at the bottom of every meet page.
Scoring
Track & Field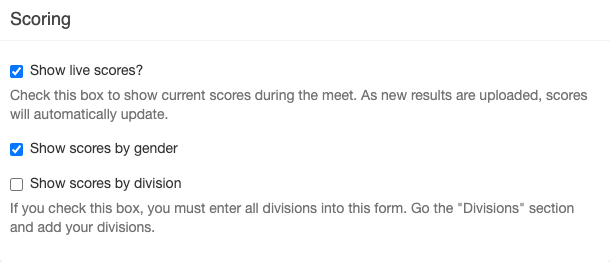 Show live scores?: Team scores will be displayed during the meet and updated as new results are uploaded from your meet management software.
Show scores by gender: Check this box to display scores by gender. If this is not checked, Male and Female scores will be combined together.
Show scores by division: Check this box if you have divisions and intend to score by division.
Display MVP Reports?: Check this box if you want to show the top 3 athletes based on team score in these groups: Overall, Male, Female, Male Track, Female Track, Male Field, and Female Field
Cross Country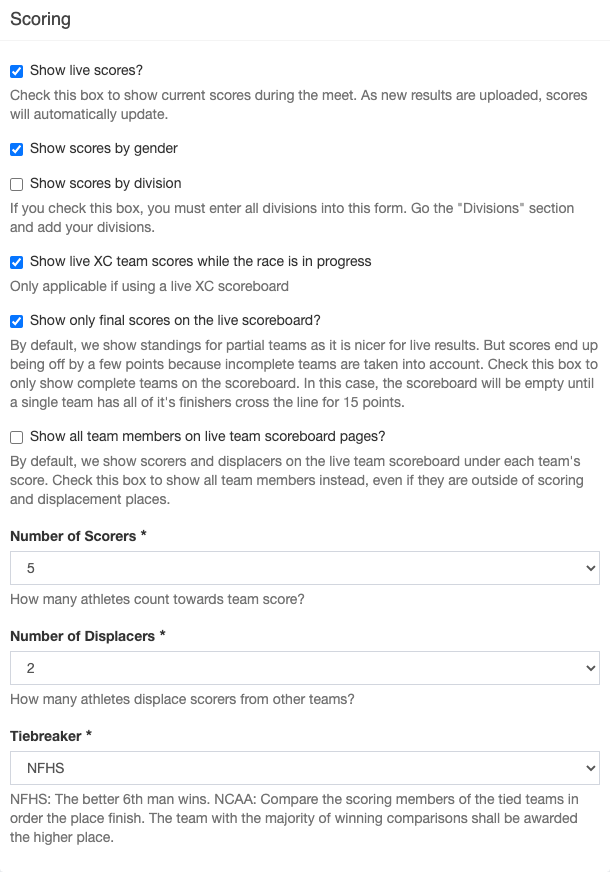 In addition to the options shown above for Track and Field, you have the following options.
Show live XC team scores while the race is in progress: Checking this box will display team standings calculated on-the-fly as a race is finishing using data from your live scoreboard system rather than your meet management software. You must be using supported FAT software such as FinishLynx, Flash Timing, or Eagle Eye to use this option.
Show only final scores on the live scoreboard?: When showing live team scores, our default is to display scores for teams who have not yet had their full team finish. This gives spectators a nice sense of how the race is shaping up, but scores and standings may be off by a few points because we take incomplete teams into consideration. If you check this box, it requires the complete team (i.e., all 7 runners) to have finished before a score is posted.
If you want to show scores accurately, and not wait until a complete team has finished, you can exclude teams from scoring if you know they won't be a complete team. See
Exclude Teams from the Live XC Scoreboard
for more information.
Show all team members on live team scoreboard pages?: By default, we show scorers and displacers on the live team scoreboard under each team's score. Check this box to show all team members instead, even if they are outside of scoring and displacement places.
Number of scorers: The number of scorers in each race (Usually 5).
Number of displacers: The number of displacers in each race (Usually 2).
Tiebreaker: Select the correct tiebreaker for your ruleset.

NFHS: The better 6th man wins.
NCAA: Compare the scoring members of the tied teams in order the place finish. The team with the majority of winning comparisons shall be awarded the higher place.
Updates

Display new result updates?: Shows a "recent updates" section on the meet homepage and populates the section with recently uploaded final results for new events.
Display existing result updates?: Changes to existing event results will be highlighted in the "recent updates" section.
Social Media

You can enter one or more hashtags to be included in automated social media posts. Separate multiple hashtags with a comma. Do not add the # prefix.
Static Links

Add Static Links to point users to important meet documents, such as a course map, a webcast link, a meet brochure, or an HTML list of entries. Enter a Title and a URL for each Static Link.
Static links appear as buttons on the AthleticLIVE meet homepage.
Statistics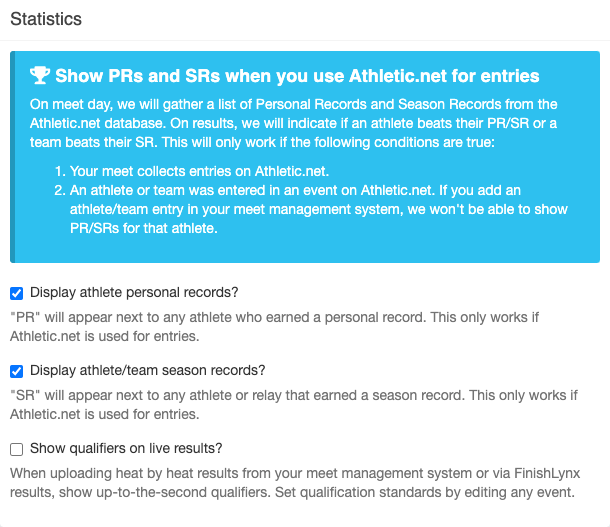 Show PRs and SRs when you use Athletic.net for entries
On meet day, we will gather a list of Personal Records and Season Records from the Athletic.net database. On results, we will indicate if an athlete beats their PR/SR or a team beats their SR. This will only work if the following conditions are true:
Your meet collects entries on Athletic.net.
An athlete or team was entered in an event on Athletic.net. If you add an athlete/team entry in your meet management system, we won't be able to show PR/SRs for that athlete.
You check Display athlete personal records? and/or Display athlete/team season records?
Learn more: Show PRs and SRs on Live Results
Live Qualifiers
Check the Show qualifiers on live results? box to show who qualifies for finals, who's on the bubble, and who hasn't qualified. You can show who qualifies from a live scoreboard by entering advancement rules either in HyTek's Meet Manager or by editing the event properties in AthleticLive. See Show Live Qualifiers on the Live Scoreboard for more details.
Rankings
Display Athletic.net rankings on real-time track and field scoreboards and on final results.
All timers have access to the Top 100 US HS rankings. If you want your state's rankings, please email ben@athletic.net. Whether or not we can display them depends on how good Athletic.net's HS results coverage is in your state.
To add a ranking set to your meet:
Click the "[+]" link to add a rankings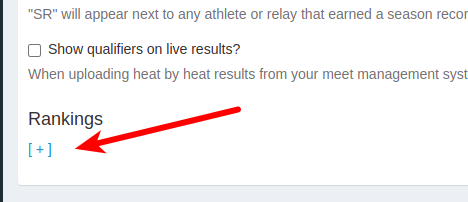 Choose the appropriate ranking

Click the + button to add another ranking

Only rankings for the meet's season and sport will appear in each dropdown.
Protest Management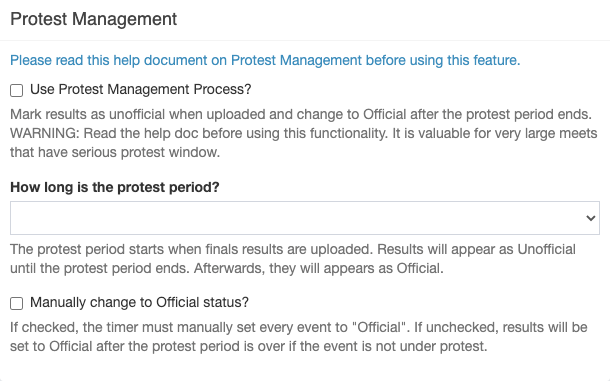 Check the Use Protest Management Process? box to enable Protest Management. Results uploaded from your meet management software will be marked Unofficial until the protest window closes, at which point they will be marked Official, unless the timer marks them as "under protest."
Choose how long the protest period is with the dropdown menu. The Manually change to Official status? checkbox will allow you to label all results as Unofficial until the timer manually changes each result status to Official. Learn more at Protest Management.
Other Settings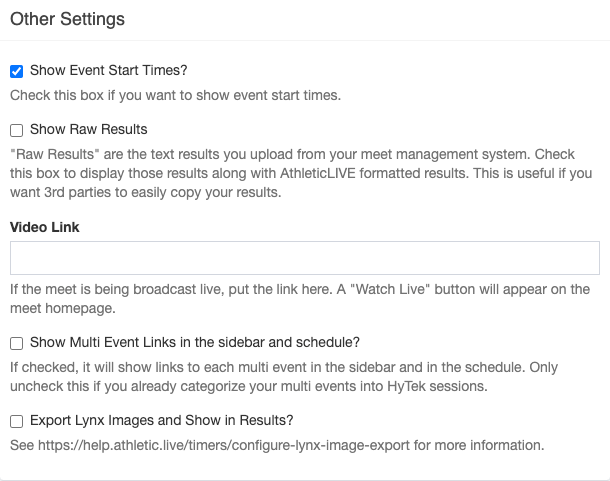 Show Event Start Times?: Displays event start times on the public meet page. You can upload the start times via HyTek's Meet Manager, or by editing each individual event's properties in AthleticLive.
Show Raw Results: If this box is checked, the uploaded HTML results from your meet management system will appear next to mobile-formatted results.
Video Link: If the meet is being broadcast live, enter the link here. A "Watch Live" button will appear on the meet homepage.
Export Lynx Images and Show in Results: Automatically show FinishLynx images as you click each result. See Automated Image Exports with FinishLynx and FinishLynx Image Export - Day of Meet Checklist.
Saving
At the bottom of the page, click Save Meet to save your changes and create/update the meet.
---
How helpful was this article?
---