Correcting Athlete Information (for Athletes, Parents, and Fans)
Many different types of meet results can be uploaded to Athletic.net. However, one of the drawbacks of having such an open system is that mistakes are more likely to happen. Athletes names can be misspelled, the wrong grade assigned, or there could be multiple bios for a single athlete. If you notice an error in the athlete information, please help us by suggesting a correction.
The first step is to go to the athlete's bio, and click  Suggest a Correction. Then choose the type of correction you would like to make.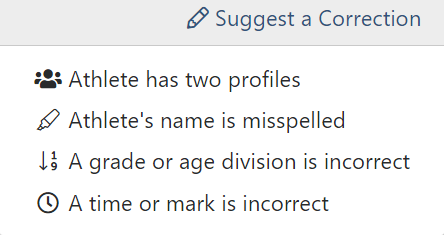  Athlete has two bios
If you come across an athlete that has two or more bios (perhaps they have one for their high school team, and one for their club team), you can suggest that they be merged. See Merging Duplicate Athletes for more information.
 Athlete's name is misspelled
Make the corrections to the name in the First and Last boxes, then leave a comment (e.g., tell us how you know that the spelling is incorrect). The more information you provide, the quicker the response will be. When you're done, click Send Suggestion .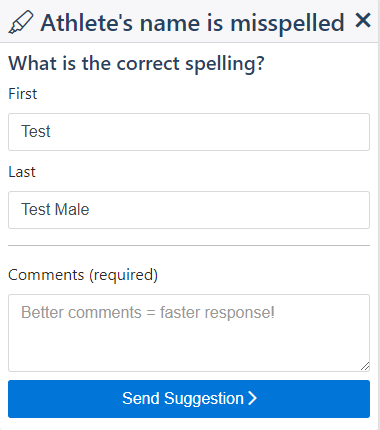  A grade or age division is incorrect
To suggest a change to the athlete's grade or age division, you will need to select the appropriate season, then select the correct grade or age group from the drop down menu. Leave a comment telling us how you know the information you're submitting? The staff will review the rest of the seasons and make changes accordingly. When you're done, click Send Suggestion .
Grades 1 through 8 are in the MS division.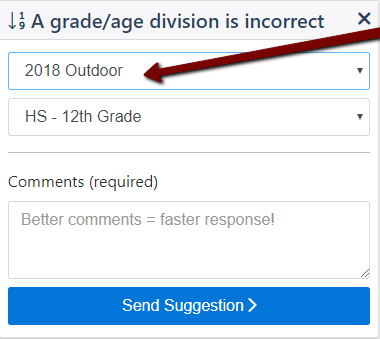  A time or mark is incorrect
Time or mark corrections should be discussed with your coach or meet host. Changes to those items are their responsibility. To ensure accuracy of rankings, we cannot accept mark changes from anyone except the meet host or coach.
---
How helpful was this article?
---