Invite a Coach to Use AthleticNET
Using the Invite a Coach feature on Athletic.net is the easiest way to add a new coach to your team. Having additional coach accounts on a team allows more coaches to help manage the team's rosters, manage meet entries, upload results, and use other Athletic.net tools that help keep a team running smoothly.
This is the preferred way to add coaches to a team, since it grants immediate access to a coach without requiring approval from Athletic.net support staff.
Watch a 45-second video on inviting a new coach:
Navigate to your team's homepage by clicking on the Menu Icon () in the top left corner, then clicking on your team's name.
Once you've navigated to your team's home page, scroll down to the section titled and click on the button labeled  Invite another coach to your team.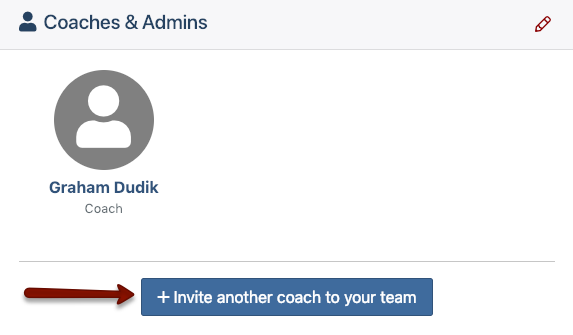 A new window will appear. Enter your new coach's first name, last name and email address. You may also choose to send them a message that will appear in the invitation email. Finally, check the Track & Field box, the Cross Country box, or both, depending on which sport(s) with which your new coach is involved.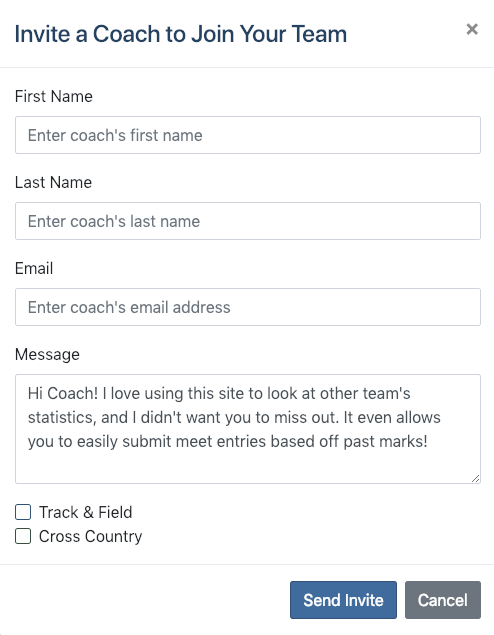 Once you click Send Invite, your new coach is immediately sent an email inviting them to join the team.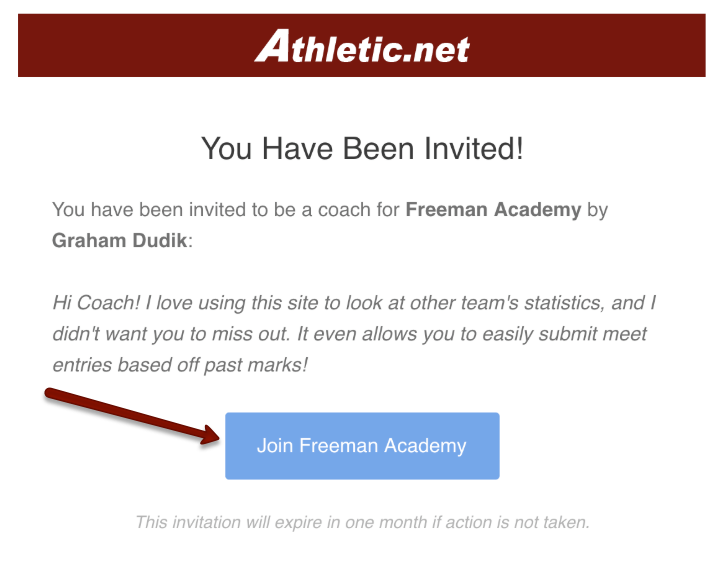 If the coach you're inviting isn't already logged into Athletic.net, clicking on Join [Team] in the email will prompt them to log in. If the coach you're inviting hasn't already created an Athletic.net account, they will need to do so now, using the steps outlined in Creating Your Account on Athletic.net, including verification of their email address.
Once the new coach has created their account and/or logged in, they will be prompted to accept the invitation to the new team they are joining by clicking Accept Invitation.

After clicking on Accept Invitation, your new coach will be prompted to select whether they are associated with the Track & Field program, the Cross Country program, or both. The new coach will also need to select their role on the new team (such as a Head Coach, Assistant Coach, or Meet Director).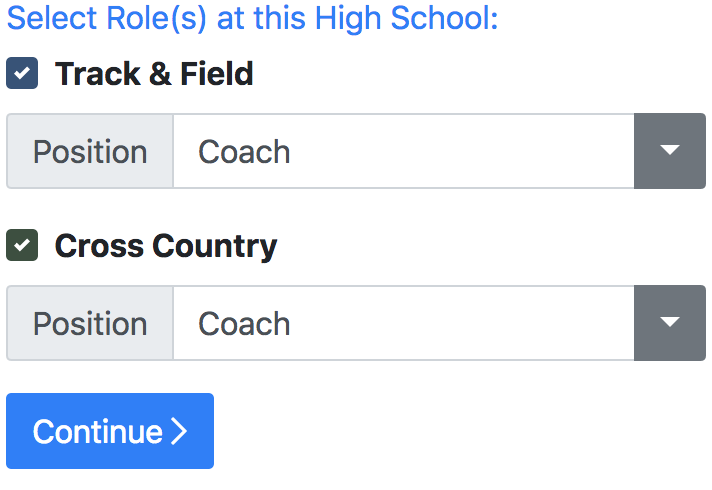 After clicking Continue , your new coach will receive a message granting access to the new team they have joined and a link to access the homepage of the team.
---
How helpful was this article?
---