Setup Custom Forms
When setting up your meet, under Additional Meet Options you have the ability to ask registrants to fill out agreements, opt-ins, or data collection forms by setting up your own Custom Forms.
By setting up Custom Forms, you can use Athletic.net to gather all of the information you need from those participating in your event in a one-stop registration experience. This enables coaches, parents, and athletes to provide your organization with the information and permissions that you need without sending them between multiple websites during the registration and entry process.
Click on Setup Custom Forms at the bottom of the Additional Meet Options section of your event settings.


Choose from the template styles what type of form to customize to your needs. Once you have chosen a type of form, you can click on that form title to complete its setup.


You can decide at this point when and to whom this custom form will be shown, customize the title, and enter the form content. You can also click on Add Data Collection Field and customize the data points you wish to collect.

These collection fields are also customizable so that you can specify the type of information you are collecting (eg. phone number, email, or a dropdown selection).

The Agreement Form comes pre-loaded with an entry waiver that you can customize.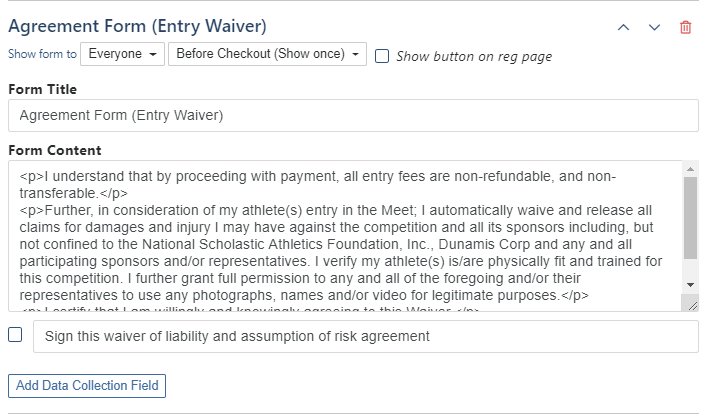 The Opt-In Form is a useful resource to have registrants choose to participate in additional programs or email lists offered by your team or event.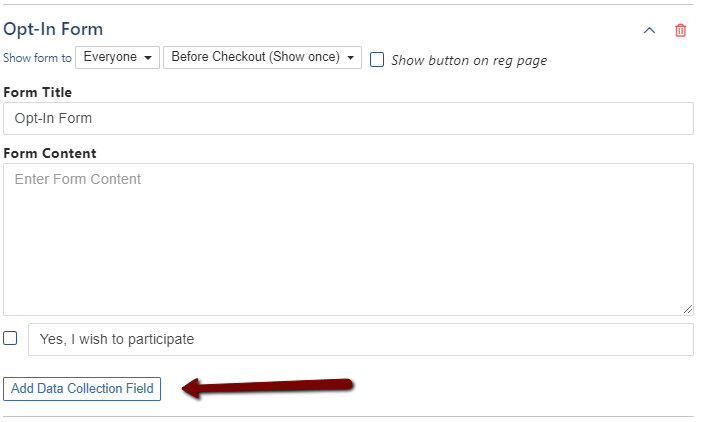 When using the Opt-In Form to give participants the option to subscribe to your email list, newsletter, or other mailings, Add a Data Collection Field for their emails.
Be sure to click Save when you have completed the setup of your Custom Forms.
You can download the data submitted using these custom forms from this Additional Meet Option location, right where you set those forms up. Simply click on the  Download Submitted Data button next to this setup, choosing the format that works best for you.

---
How helpful was this article?
---