Meet Day Tools
Meet Day Tools
Powerful meet management software
for Site Supporters
Seed, Print Heat Sheets, and Enter and Publish Results
We've integrated seeding, printing heat sheets, field score sheets, and reports, and publishing results directly into Athletic.net! No need for expensive, complex third-party software. When you activate Run Meet, your meet entries are already there. After you've entered results, publish to Athletic.net with the click of a button!
Seeding
After initializing the Run Meet feature, events are automatically seeded! You can then review and make adjustments as needed.
Events
Adjust seed settings
Reseed event
Reset event (unseed all entries)
Heats/Flights
Add or delete heats
Move entries within heat
Adjust number of start positions
Entries
Adjust seed mark
Add or scratch entries
Add or remove relay athletes
---
Reports
Ready to print!
Available Reports
Meet program
Finish line recording sheets
Field event score sheets
Team scores
---
Results
Easily enter results and publish to Athletic.net
Manually enter results
1-click publishing of results to Athletic.net
Team scores published to Athletic.net
Toggle FAT or hand time
Override heat place, event place, or points
---
Available on every meet's Manage page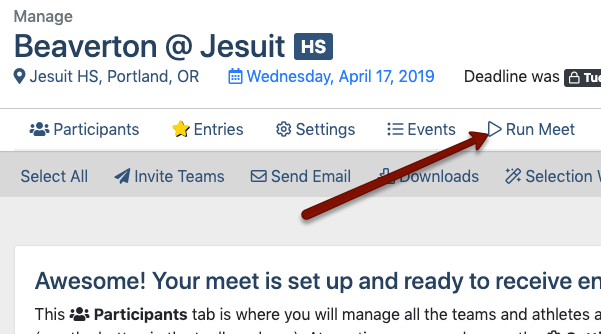 ---
How helpful was this article?
---