Following and Connecting with Teams and Athletes
As an athlete, parent, or fan of a team, you'll get the best experience from AthleticAPP if you follow or connect with your team(s). If you're a fan of a particular athlete, you can follow that individual as well.
Connecting with Your Team via Team Code
All athletes and parents need to connect with their team via Team Code, as this enables the core AthleticAPP functions and more:
Communicate with coaches, athletes, and parents. See Conversations in AthleticAPP.
View team-only posts.
Register & pay for meets you or your athlete are competing in (including virtual events).
Receive notifications of assigned workouts.
So what is it?
Connecting with your team via Team Code connects your account to your team's roster. For example, it verifies that the Athletic.net account owned by a "John Smith" is actually the same Johnny Smith who is on Central High School's roster.
How do I connect?
Ask your coach for the Team Code and then enter the code into AthleticAPP. You can also request the Team Code by following the team. Once you follow your team, your coaches will be alerted that you've requested the team code. To follow the team, see Following Your Favorite Teams and Athletes, below.
Once you've obtained your team's code, enter it into AthleticAPP. You can enter the code before you log in by tapping Have a code? on the login screen.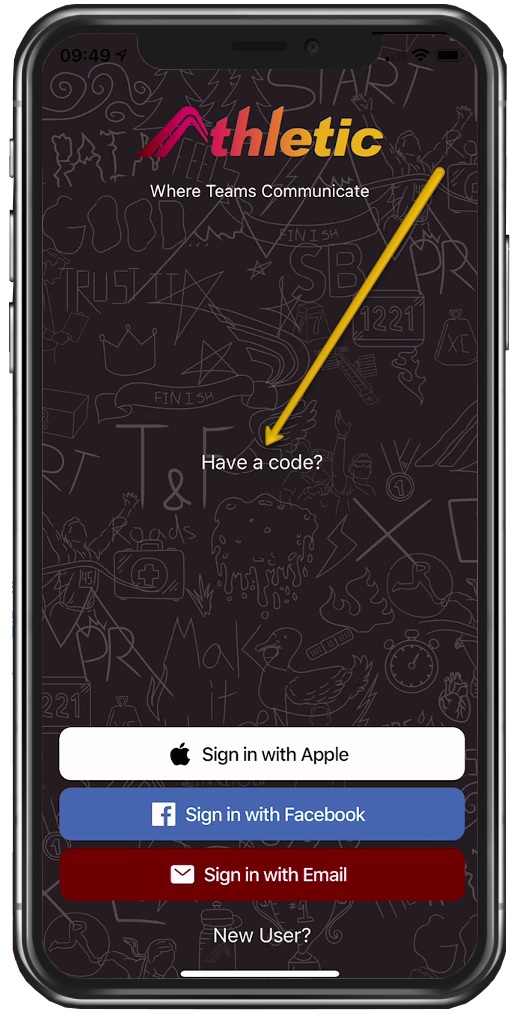 Alternatively, you can enter the code once you're logged in to the app. Tap your picture or initials at the top right of the screen to bring up the main menu. (If you don't see your initials or picture, tap the
icon first.) From the main menu, tap
Enter Team Code
.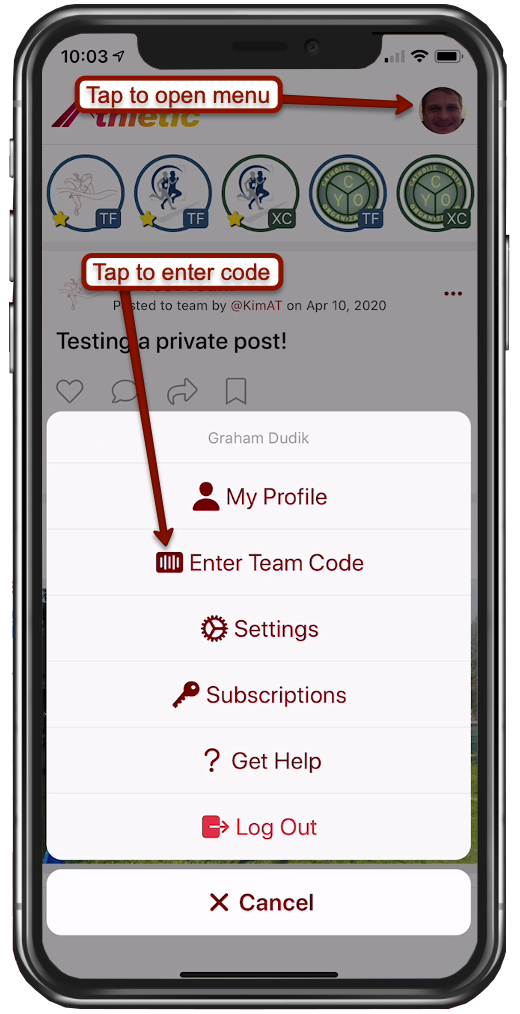 Following Your Favorite Teams and Athletes
If you're a fan of a particular athlete or team, you can follow them using AthleticAPP. Following a team or an athlete means you can see public posts by teams or athletes. These can include results, PRs, photos, or whatever else the athlete or team chooses to share. Additionally, for someone to start a one-on-one conversation with you using AthleticAPP, you must follow them first—unless you're both connected to the same team via Team Code.
Whether you're following a team or an athlete, finding them works in the same manner. Tap the Search () icon at the bottom of the screen, and type the name of the team or athlete you're looking for.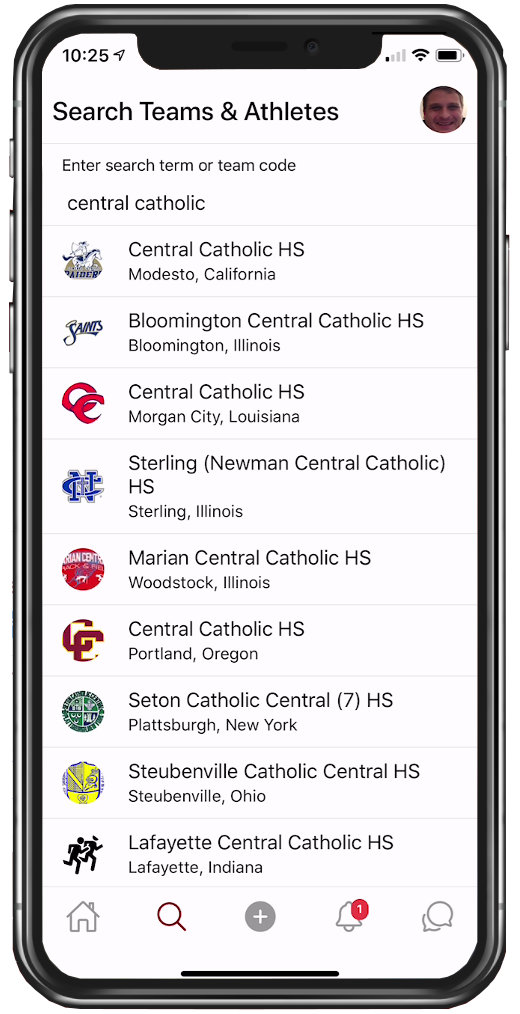 Once you've found the team or athlete you're looking for, tap on the name to be taken to the profile or team page. If you're searching for a team, you'll need to select which sport you're looking for (Indoor Track & Field, Outdoor Track & Field, or Cross Country). Once you arrive on the team or athlete's profile page, tap Follow. You can then choose if you'd like to receive notifications of this team or athlete's activity.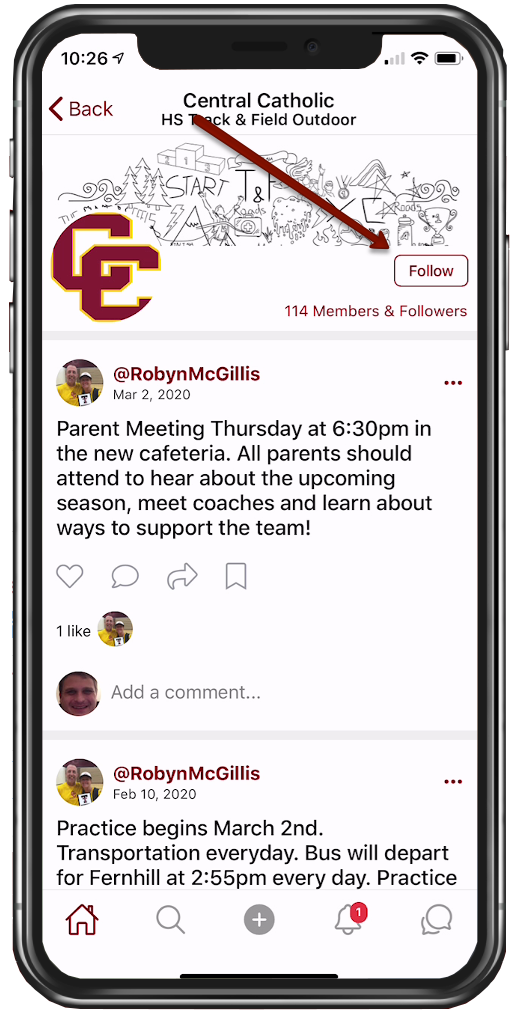 If you're following an athlete, tapping the Follow is all you need to do. If you're following a team, there will be one more step. Select your role with the team and choose which sports you'd like to be a part of.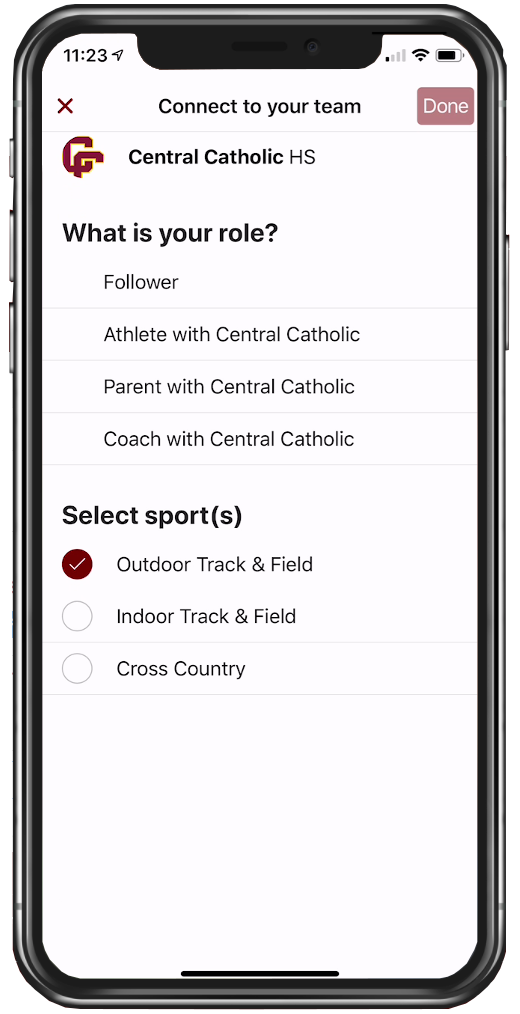 The following roles are available:
Follower: If you're a follower, you can view public posts from the team and its members, and these posts will appear in your feed. You will be unable to see team-only posts or communicate with coaches, parents, or athletes unless a particular individual follows you.
Athlete: If you're an athlete, you'll be able to create private and group conversations with teammates, coaches, and parents. You'll also be able to create team-only posts and enter virtual meets as a member of your team.
Parent: Parent team privileges are the same as Athlete privileges as described above, without the ability to register for virtual meets.
Coach: If you select coach, a message will be sent to current team coaches or Athletic.net administrative staff indicating you've requested access to the team. You'll receive further information via email.
If you select Athlete or Parent, you'll be added to the list of people requesting access to the team for the coaching staff to verify. The team's coaching staff will need to send you a team code to enter in AthleticAPP before you can take advantage of the features listed above.
---
How helpful was this article?
---