Configure Result and Entry Uploads with Race Director
This article explains how to upload results from Race Director to AthleticLIVE.
NOTE: Integration with Race Director is in BETA. Some statistics and/or features in Race Director results may not yet appear in AthleticLIVE. The integration is still a work in progress. If there is a feature you absolutely need, please let us know at ben@athletic.net.
Requirements
The following is required to connect Race Director with AthleticLIVE.
RaceDirector 2018 or greater
An Internet Connection
No customizations to your live results HTML. (If you don't know what this is, you are fine.)
Setup FTP credentials
Open a race.
Go to Tailor -> Options
Click the "System 2" tab.
Enter the FTP credentials provided on the admin meet details page.

Copy the FTP Server Name field to the FTP Server Name field.
Copy the User ID field to the User ID field.
Copy the Password field to the Password field.
Copy the Path to FTP Data field to the Path to FTP Data field.

Set "Use For" to "All".
Click "Check". Click "Yes". It should say "Connection Made. View the contents of the directory.". Click "No". Close out of this window.
Now you can [upload results to Race Director].
Example Setup Screen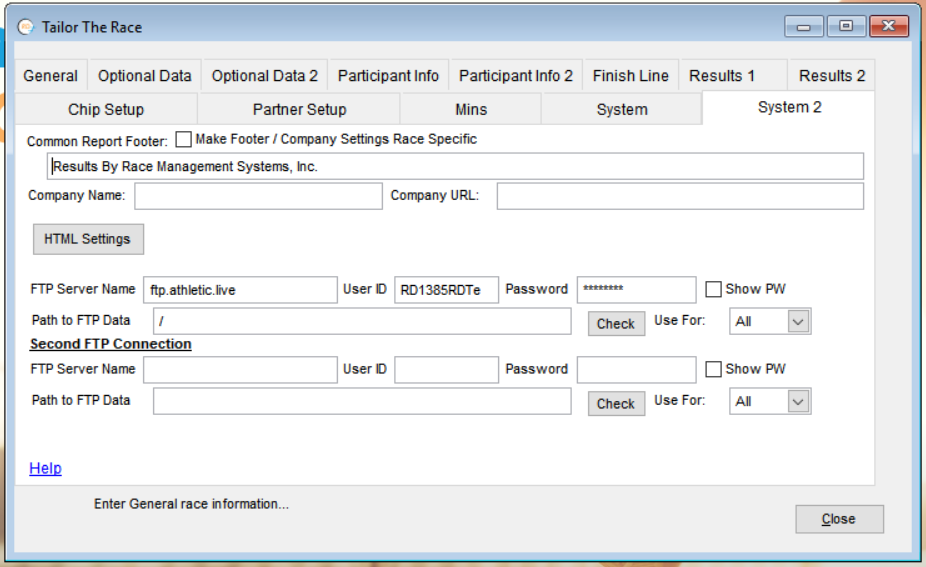 ---
How helpful was this article?
---