Install and Operate AthleticLIVE Local
Summary
AthleticLIVE Local helps timers solve two problems:
Sending scoreboard data to the web when a FinishLynx or FieldLynx computer is not directly connected to the internet.
Allowing HyTek, FinishLynx, and FieldLynx credentials to stay static. No more changing ports or usernames for each meet.
A typical AthleticLIVE setup is as follows. All machines must be connected to the internet. New credentials are required for each meet.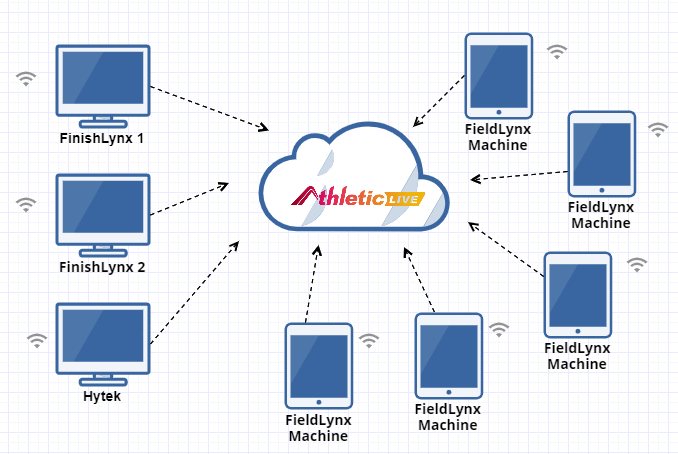 AthleticLIVE Local allows other computers to send data to the Web App, which in turn forwards data to AthleticLIVE. Because all data goes to one place, you no longer have to edit credentials per meet. Simply select the correct meet in the Web App and you're good to go. Only the computer running AthleticLIVE Local requires internet access.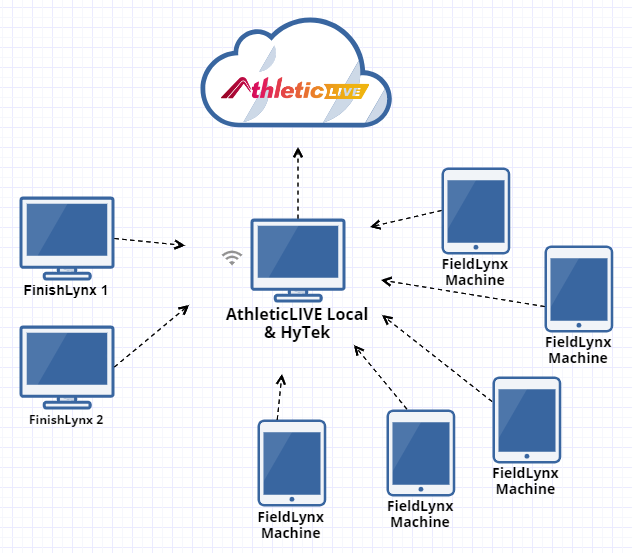 Install
Download the latest version of the installer here. Download the 64 bit version unless you know you have a 32 bit machine. Almost any computer sold in the recent past is 64 bit.

64 bit: https://anet.live/alivelocal
32 bit: https://anet.live/alivelocal-x86

Double-click AthleticLIVE Local.msi.
Proceed with the installation process.
You should see a shortcut on the Desktop and in your Start Menu.
Open the application. A window will appear with information about starting and stopping AthleticLIVE Local.
Upgrade
Download the latest version of the installer and run AthleticLIVE Local Setup.exe. The app will automatically uninstall the version on your computer and install the latest version.
Usage
Start the app
Open the app.
Open a browser (preferably the latest version of Chrome or FireFox). Go to http://localhost:8150.
Enter your AthleticLIVE credentials and login.
Change Connection Settings
You may customize the following connection settings:
HyTek FTP username and password
FinishLynx results port
FinishLynx run time port
FieldLynx port
In most cases, you can leave these ports as-is. Change them if you have other services running on default ports. You are responsible for making sure the ports you choose do not contain traffic from other programs.
Use these instructions to set up your timing programs. Note that the IP address should be the IP address of the computer running AthleticLIVE Local.
FTP Uploads
If you intend to use AthleticLIVE Local with HyTek, Meetpro, or RaceDirector, you must run AthleticLIVE Local on the same computer as your meet management system.
Choose an Active Meet
Click "Choose Active Meet" in the left sidebar.
Meets that have active upload protocols or dates within +-7 days will appear. Choose one and click "Submit". It will take a few seconds.
If this is the first time you have selected this meet, you will also need to click "Re(start) All" in the App Statuses box.
You can begin sending data to AthleticLIVE Local.
Shutdown the app
To shut down AthleticLIVE Local, you MUST follow these instructions
In the top right corner of the web app, click on your email address.
Click the red 'Shutdown' button.
Wait for the browser to reload and say that localhost refused to connect.
Close the window.
Debugging
If you run into a problem, do 2 things:
Download recent logs by clicking Debug -> ZIP Recent Logs in the left menu
Email the logs to ben@athletic.net and describe the problem.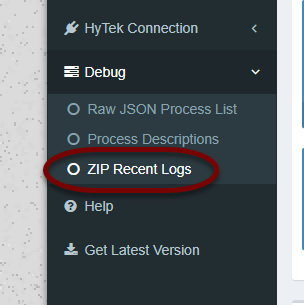 Changelog
---
How helpful was this article?
---