Configure HyTek FTP Uploads
This article explains how to upload results from HyTek Meet Manager to AthleticLIVE.
Requirements
The following is required to connect HyTek Meet Manager with AthleticLIVE.
HyTek Meet Manager 4.0 or greater
HyTek Network Plugin
An Internet Connection
Step 1: Enter Credentials
Click "Run", then click "Web".
Click the Login tab.
Copy the following information from your Meet Details page into HyTek.

Copy the Host field to the Enter your site address... field.
Copy the Username field to the User Name field.
Copy the Password field to the Password field.
Copy the Working Directory field to the Working Directory field.

Uncheck Do not upload...
Check Enable F10, F11, and F12 from Run.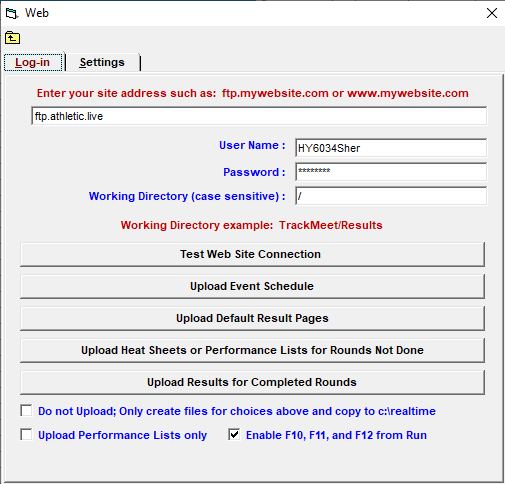 Step 2: Configure Settings
Click "Run", then click "Web".
Click the Settings tab.
Set Mode to "Passive FTP".
Set Event Sort to "Session"
Check Include Session Title if Sort By Session.
Check Include Competitor Number if your meet uses Competitor Numbers.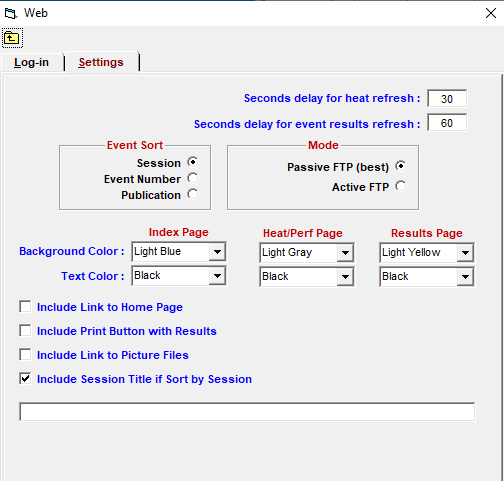 Step 3: Preferences
You can configure HyTek to upload specific data to AthleticLIVE. The screenshot below depicts the ideal setup.
Click "Run" -> "Preferences" -> "Web Real-Time" to get to the screen depicted below
Prior Round Results, All Prior Round Results, and Results By Heat/Flight and Compiled are unchecked (You can check them, but entry and results will take a bit longer to upload). All others can be checked.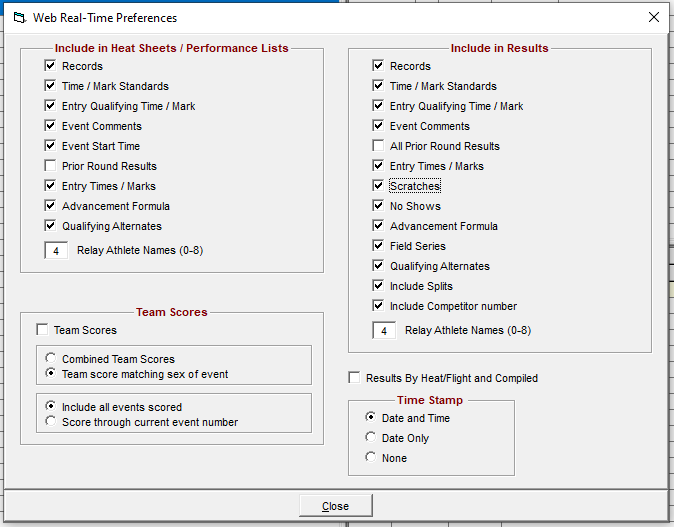 That's it! You're ready to upload your results and entries to AthleticLIVE!
---
How helpful was this article?
---