The Race Director
If you time cross-country races using The Race Director, there is an easy, built-in process for exporting race results for upload to Athletic.net. The Race Director will export a text file that can be parsed by Athletic.net's results uploader.
Match Division Numbers
In order to upload results quickly and easily, you'll want to make sure that the "Athletic.net ID" in The Race Director matches the division ID numbers you've configured on the Athletic.net uploader for each race division.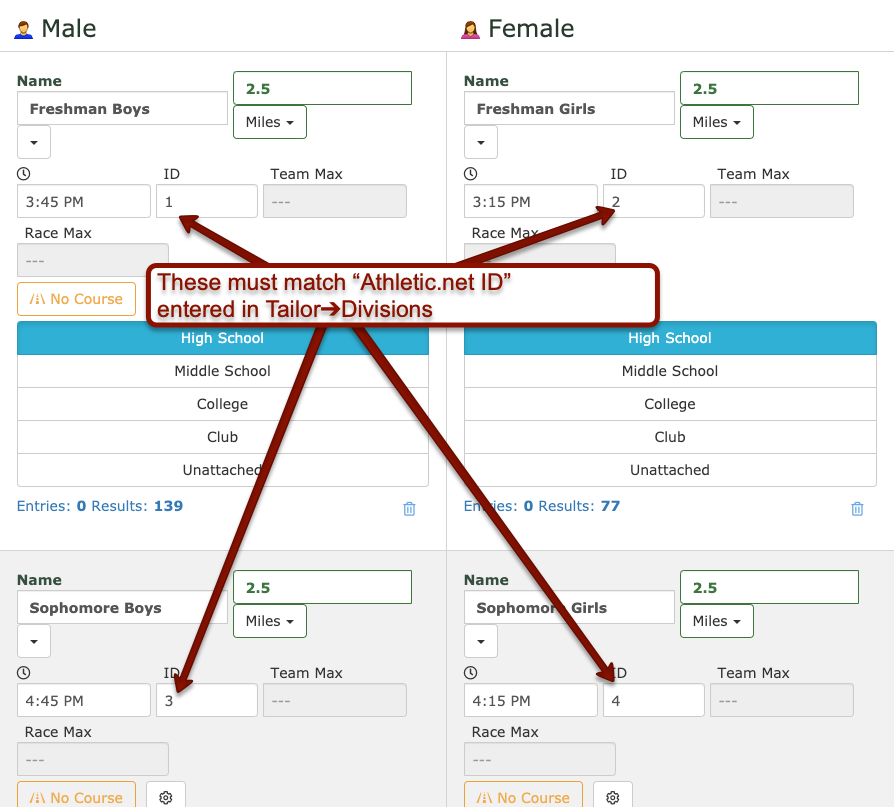 In The Race Director, click on the Tailor menu, then Divisions. For each division configured in The Race Director, enter its corresponding Athletic.net division ID in the Athletic.net ID box.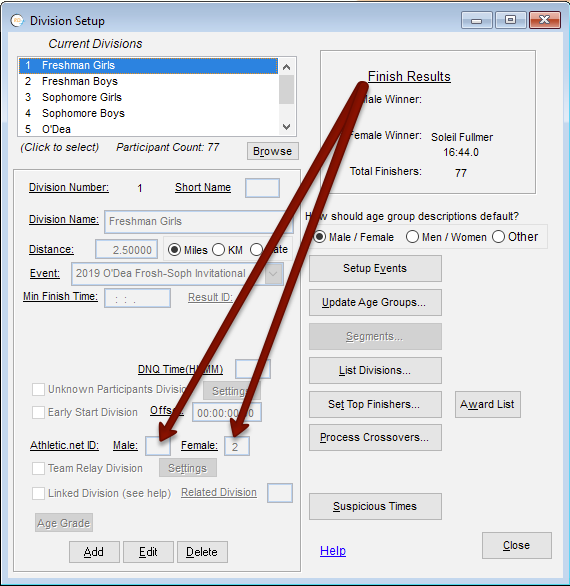 Select the division you're going to enter an ID for, then click Edit and enter the Athletic.net ID number in the indicated boxes. When you're done, click Save at the bottom of the screen. Perform this action for each division you're going to export to Athletic.net. When you're done, click Close at the bottom of the dialog box.
If your divisions in The Race Director contain both males and females, enter the appropriate Athletic.net IDs into both the Male and Female boxes. Remember, the Athletic.net IDs will be different for males and females! If your divisions only contain a single gender, enter the Athletic.net ID number into the appropriate box and leave the opposite gender box blank.
Export the Results File
From the Reports menu, choose Reports.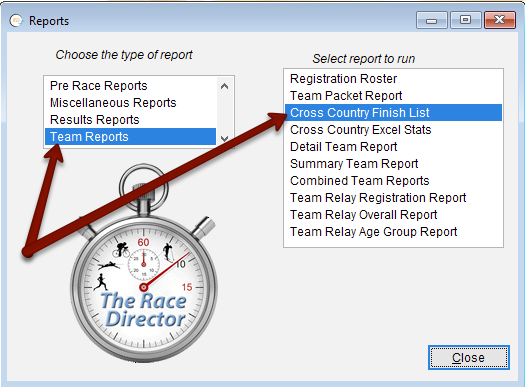 Click on Team Reports and then double-click on Cross Country Finish List.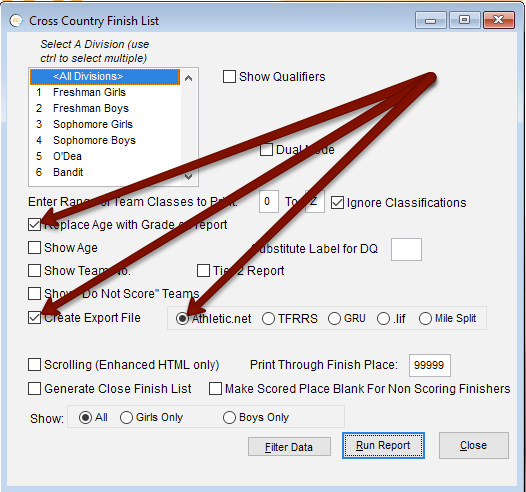 Select the division you want to export (selecting <All Divisions> will export your entire set of results for the meet), and then ensure Create Export File is checked and the Athletic.net radio button is selected. Additionally, ensure Replace Age with Grade on Report is checked. Finally, click on Run Report.

If you selected <All Divisions> above, you'll be asked if you want to combine divisions. Click Show Separately to ensure that your Athletic.net ID's are properly preserved.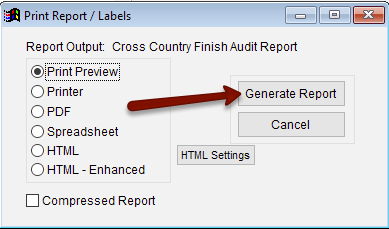 Leave the report output on Print Preview and click Generate Report. If you want to print the report, now is the time to do so. Otherwise, close the print preview window. After you close the print preview window, you'll be prompted to create the Athletic.net extract file. Click Yes, and select a location on your computer you can easily find and give the new file a name. Finally, click Save.
On the Athletic.net upload tab, browse to the location of the text file you just saved, and upload it to Athletic.net.
---
How helpful was this article?
---