Unofficial vs. Official Results
The Meet Host has the ability to declare results Official if the results meet the standards below.
Official
Uploaded from the Host
All Places
All Events
All Participants
All Marks
Unofficial
Manually Entered Marks
Single Team Results
Missing Places
Missing or Unknown Participants
Missing or Inaccurate Marks
Converted marks from different distances (e.g., mile times converted to 1600m). Conversion-based results can never be marked official.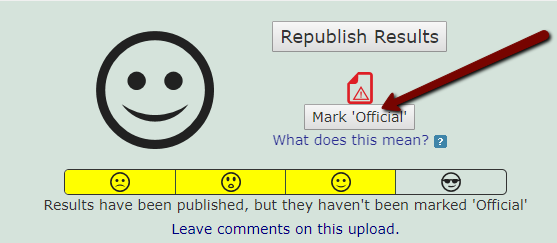 Mark 'Official' button is found on the Uploading Results - Publish tab
Will mark results as 'Official'
Emails coaches Results Posted
Other coaches may add comments, but not modify marks
Prevents other coaches from modifying divisions, rounds, event types, heats, results, places, etc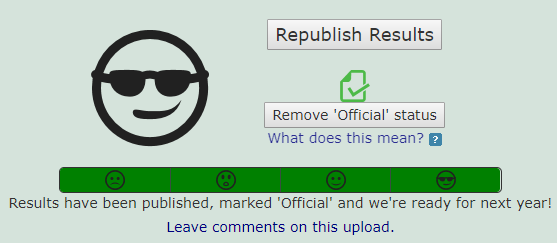 Track and Field vs Cross Country
With track and field results, other coaches may still be able to modified athlete names, however the changes will be flagged and marked unofficial until the host approves them. Hosts can approve changes on the meet results page. With cross country results, other coaches can not modify athlete names.

Clicking the Allow Corrections option allows other teams to manually modify Athlete names, along with results, places, event types, divisions, rounds, heats, and wind values. Other teams will not be allowed to upload or delete results.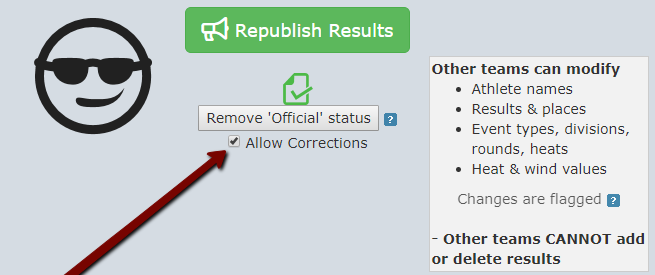 Flagged modified results will look like this.

Clicking the red note will bring up a window that will show the uploaded result, and who changed the result. The host may choose to make the modified result Official or delete it. The flagged result will not be official until the host marks it as so.

---
How helpful was this article?
---