Registering for an Event as an Individual
If you're competing as an unattached athlete, you'll have to register yourself to compete in the meet. In addition, some teams allow athletes to register themselves instead of requiring a coach to do it.
Before you can register yourself for a meet, you'll need to claim your athlete bio, if you have not already done so. You may have done this when you created your Athletic.net account. This will associate your account (we call them Profiles) with your performance history page (we call them Bios). For more information, see Claim Your Athlete Bio. This simply involves finding a meet with your results in it and associating those results with your Athletic.net login.
It's easy to claim your bio if you're a USATF athlete. See the section about USATF athletes in
Adding an Athlete to Your Profile
. Just enter your USATF ID number and you'll be good to go!
Once you've claimed your bio, go to your dashboard page to view your athlete calendar. You can access your dashboard by clicking on your name in the top right corner of any page and then clicking  Dashboard.
From your dashboard, choose  Athlete Registration.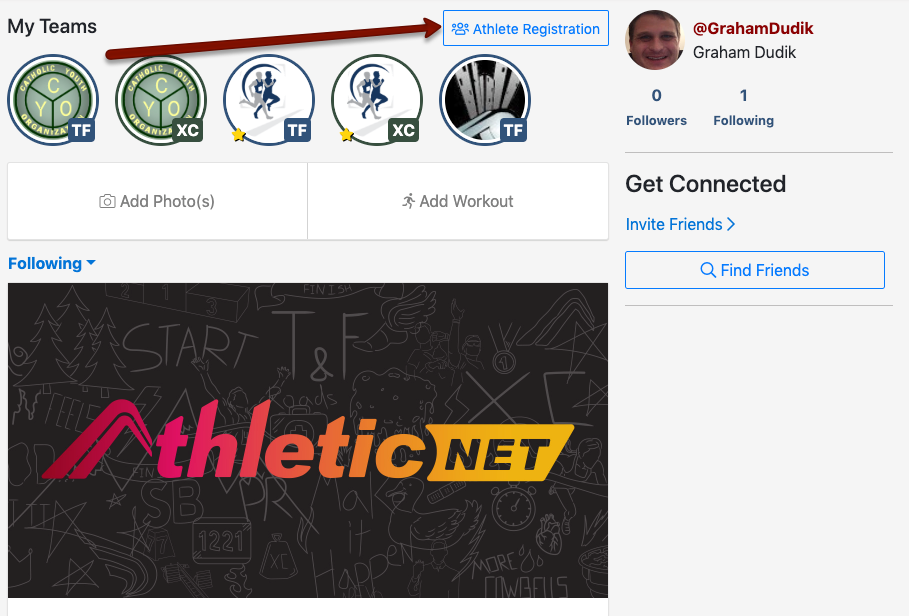 From there you'll either choose Myself or Add Athlete. In most cases, you'll want to choose Myself. If you're managing another athlete from your account, choose Add Athlete. You'll need to click Add Unattached Athlete on the next screen as well. See Adding a Managed Athlete to Your Account for more specifics.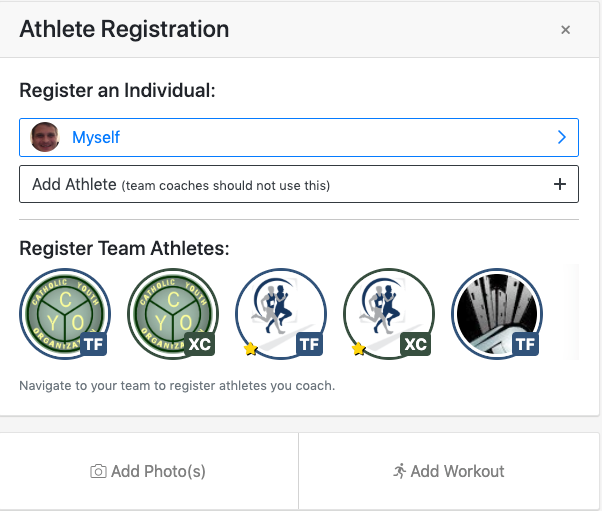 Add a Meet to Your Calendar
If your team is configured so that athletes may register themselves for meets, you will see upcoming meets your team is participating in listed on your calendar on the following screen. If you don't see the meet you're looking for (this is likely if you're going to compete as unattached), click  Add Meet.

Clicking  Add Meet will open a calendar screen. Select the month you're looking for, and then click on the day. All meets accepting unattached registrations will be displayed for the given day.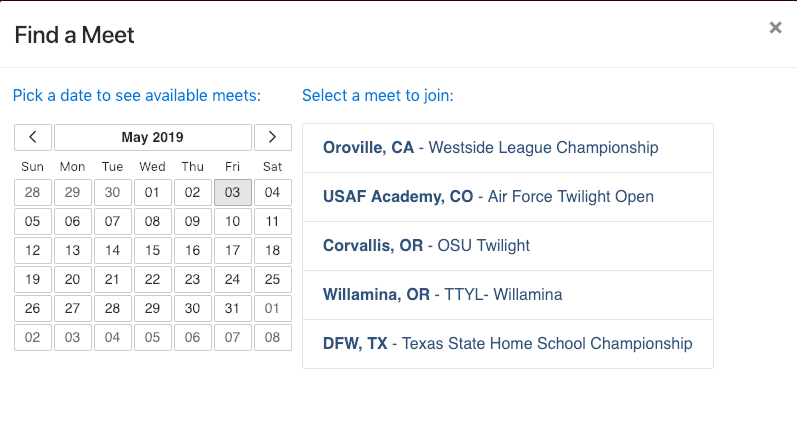 Click on the name of the meet to add it to your calendar.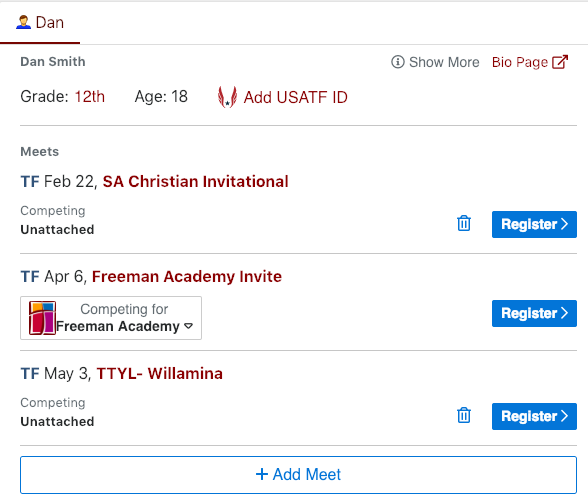 To remove a meet from your calendar, click the . Meets your team is attending cannot be removed from your calendar, even if you aren't participating.
Register for a Meet
Selecting Attached/Unattached
While some meets may only accept unattached registrations, you may need to choose whether you are competing as attached or unattached when registering for a meet. If you compete with multiple teams, you may need to select the team you will be competing for. To select your attached/unattached status, click on Competing for under the meet you're registering for.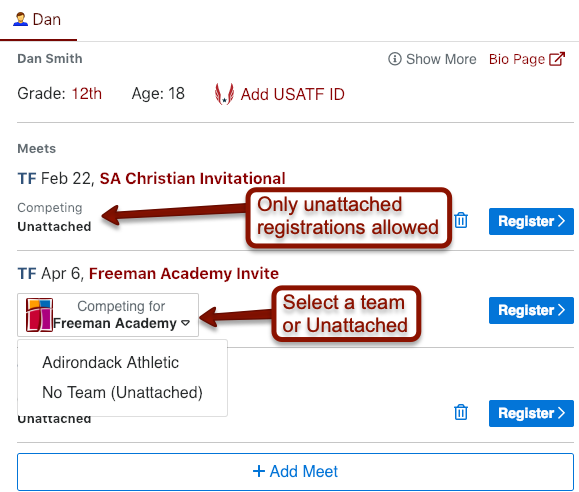 The Competing for menu will only appear for meets where you can choose your status. If a meet only accepts attached or unattached registrations, you will not see the option to change your attached/unattached status.
Once you've selected your attached/unattached status, click Register .
Selecting Events
Once you click Register , you'll be taken to the event selection window. The first thing you'll do is choose the division for your first event. Click on the appropriate division.

Once you click on a division, the available events in that division will appear. Click on each event that you're competing in to select it. If you make a mistake, click the event title again to deselect it.

If you're competing in different divisions depending on your event (e.g., Varsity 100 Meters and JV 800 Meters), make sure the correct division is highlighted before selecting the event.
Once you've selected the events that you're competing in, you will see a blue box appear below the list of events. This lists all events you're registering for, and asks you to enter your PR for each. Make sure you enter an accurate seed, since failing to do so could affect your seeding position in the meet.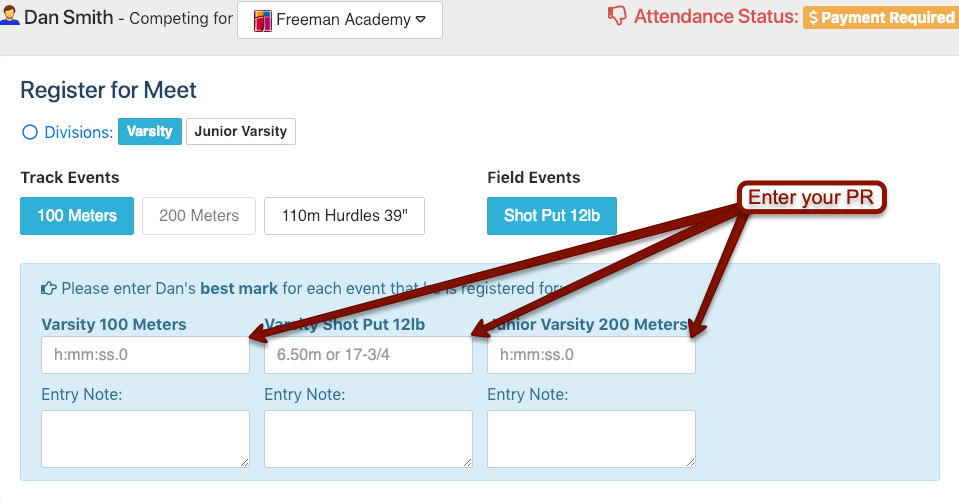 If your athlete bio contains past performance data, both your hand-entered PR and your Athletic.net PR will be visible to the meet host. If you're registering for a cross country event, you will not be asked for any PR data.
Once you've entered all your PR data, click  Done at the bottom of the page. If there is a Balance Due message above the  Done button, see the section below on paying entry fees.
If you click  Done without paying any entry fees that are due, your entries will not be accepted into the meet.
Entry Fees
Depending on the configuration of the meet by the meet host and/or your team manager, you may be responsible for your own entry fees. Athletes competing unattached usually are responsible for their own entry fees. If you owe entry fees to the meet host, you will see a message indicating there is a balance due for your registration.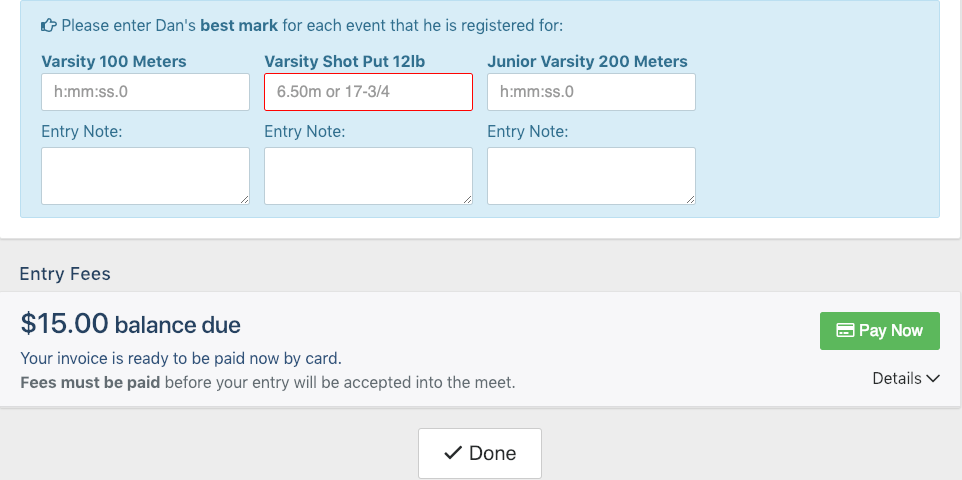 Click Details  to see the breakdown of the fees you're being charged.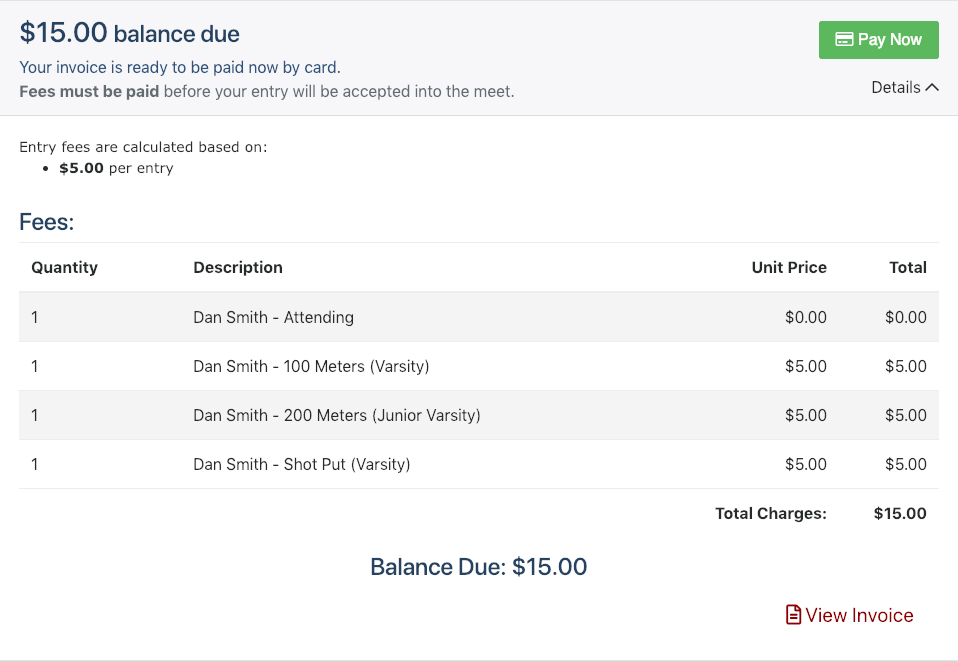 Click  Pay Now to pay by credit card, or click  View Invoice to view the formal invoice. Once you've paid your entry fees, click  Done to return to your dashboard.
---
How helpful was this article?
---