Race Video Kits
Race Video Kits
To ease the transition for Timers, we have created these Race Video Kits.
These kits include a Tablet with a case, a Tripod, extra external battery, sand bag with strap, assorted ethernet cables and couplings, and a PoE Lightning Adapter (for faster and smoother uploading).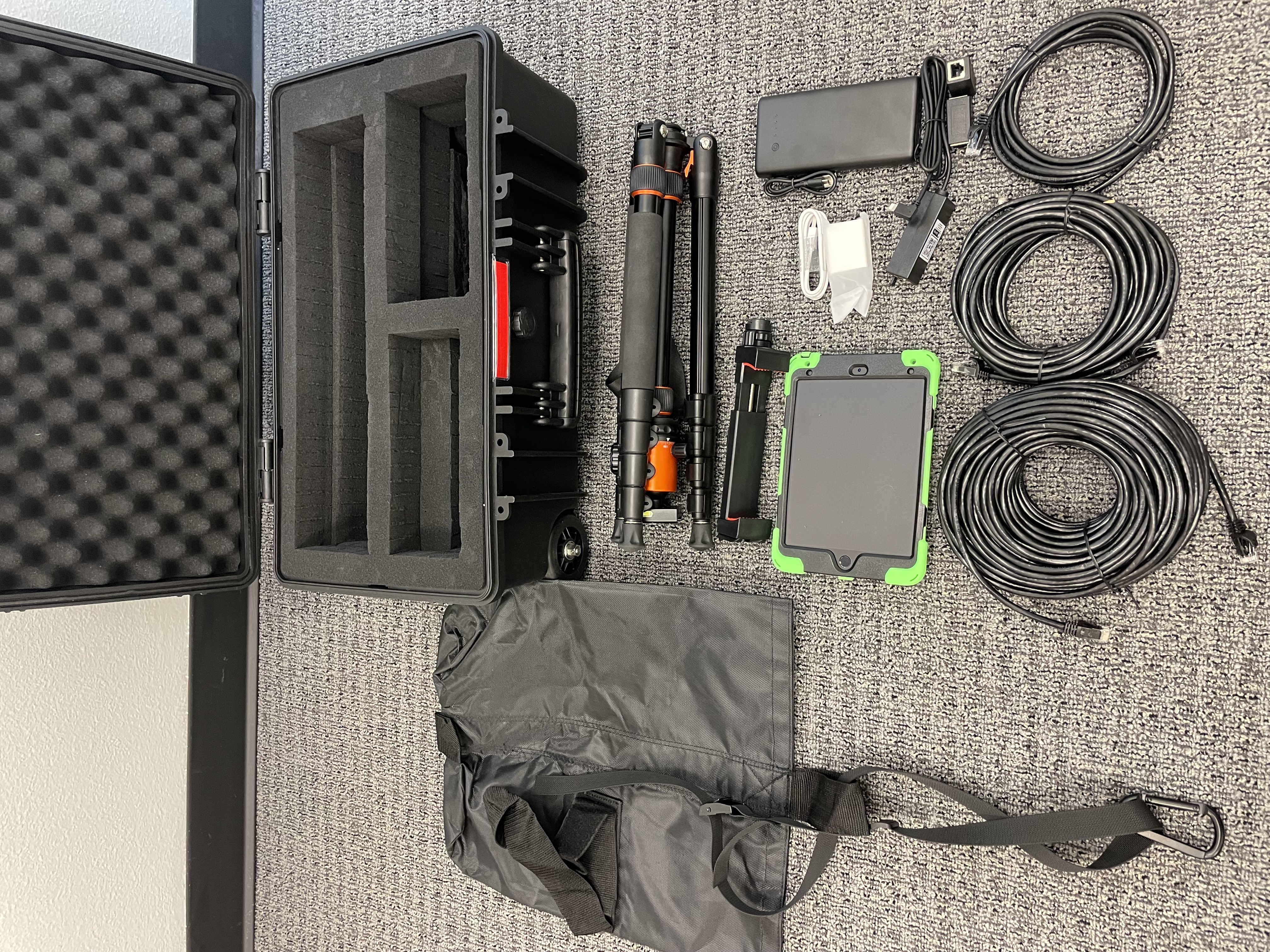 Item

Description

Tips and Notes

Cost/Notes

Image

iPad Mini

Apple iPad Mini 5th Generation (Wi-Fi + Cellular, 64GB) - Space Gray (Renewed)

4/5/6th Gen should work fine. Most important factor is storage space. 128gb+, 64gb may be enough realistically, but they would have to purge video files often.

Although FieldApp is the only thing necessary to create race videos, other applications may coincide well with your setup.

Consider Teamviewer or Splashtop for trouble shooting, adding quick bookmarks and help documents, customizing the tablet to with your Logos, etc. Make it your own!

300-600+ range.

Cost goes up with Cellular unlocked and increased storage. Newer models may last longer term, but may be unnecessary for startup.

iPad Case

Amazon.com: BRAECN iPad Mini4 Shockproof Case,iPad Mini 5 Case 4/5 Case(Green)

The key for that the strap handle can be wrapped around the tripod mount or be used during field event marks. Light for long day use and colorful enough to identify in a crowd.

Case with strap, strap is useful for field event usage as well.

25

Tripod

Although some tripods come with a tablet mount, they may not be compatible with the iPad case or may not seem very secure.

This particular tripod can be set at a low table setting as well as a higher standing position. The swivel ball may be loosened or tightened for a smooth panning experience.

85

PoE w/ Lightning or USB-C (depending on model iPad)

Amazon.com: PoE Texas PoE Power and Ethernet Adapter for Apple

Gen mini 4 uses Lightning 

Gen mini 5 and 6 need USB-C

*Key Note, this brand makes a good Lightning Port, clicks into Mini very well, and less likely to slip out.

68-86

Ting Wireless Sim Vs Hotspot Sim on plan

Suggested: Flex tier plan, lowest upkeep cost, pay per data usage. Great for lower costs during months without usage, and paying as you go plan.

Timers are responsible for their own data plans. Check out our race videos page for tips to conserve data usage.

Finding ethernet ports in press boxes,

Uploading long races on homewifi

Manually compressing longer videos

10/mo

5/gb additional usage

External Battery/Portable Power bank

https://www.amazon.com/Portable-36800mAh-Tri-Outport-External-Compatible/dp/B0936GZ7H3 

Enough to power the ipad a few times through. 10-20k mAh although heavy duty may be useful for other things. Phone outlets, laptop ac charging, etc.

Although not essential, always grateful to have an extra power source. Don't forget to charge them!

32

Ethernet Cables and RJ45 Couplers

Should have a bundle of assorted lengths. Very Useful for hardline to internet. Maybe 10, 25, 50 and 100

Most press boxes have a hardline ethernet port to the internet nowadays. Please make an effort into asking the IT department for access to it! This will greatly upload speeds and lower upload stresses!

40

Pelican Case

Amazon Basics Large Hard Rolling Camera Case - 22 x 14 x 9 Inches, Black

Size Recommendations

22x14x9 In

Should be able to fit everything, except ethernet may be hard to squeeze in easily.

150-200 range

Tablet Tripod Mount

Recommended by Athletic Timing, This mount will fit over bulkier cases.

Swivel Handle not included, but there is a swivel gear on the tripod itself. This should make it easy to turn the tablet with one hand while pinch and zooming with the other.

18

Sandbag/Weights

Useful to avoid light tripod issues.

Or to cover the tablet during the heat when not in use.

Lighter tripods can get bumped and shifted, may be useful to weigh it down during windy days.

13

Minimum:

Tablet, Tripod, Mount, Case, PoE Adapter, Pelican Case, Ethernet Cables

Maximum:

Extra useful supplies, couplers, sandbag, battery pack, pelican case.

Total:Minimum 800~

Maximum: 800~1000
To request a Race Video Kit, please contact ben@athletic.net
First Steps
To Do List
Step-By-Step Setup Guide for your new Race Video Tablet
Setting up iPad for the first time will require internet. Once connected, the system will guide you through some privacy terms and allow you to choose Quick Setup (if you already have an apple device) or Manual Setup (if doing for the first time), Activate the iPad with wifi or Cellular data, and then Set up Face ID or Touch ID and create a passcode, we recommend setting up a universal passcode for your team. Something easy to remember, like the last 4 digits of a phone number. It will then allow you to transfer or restore data. (useful for copying files and settings from other devices)
Set up Apple ID: We recommend you make a blanket apple account for your tablets. This will make things easier to keep up with other tablets later on and make cloning and transferring files and apps a much simpler process. (This process will require internet) You will have to verify your email address and phone number a few times if you are making a new account.
Update your iPad through the Settings. At this point, feel free to customize and make this tablet your own. Add your logo for backgrounds, clock and weather widgets, any apps that will be helpful at your day-to-day meets.
Download the AthleticField App from the App Store: You may need to verify your password and payment information (AthleticField is Free to download, but Apple may still require some information before allowing downloads)
Once in the AthleticField App: Go to Settings and Enable Record Full Race Videos
More Documentation
---
How helpful was this article?
---