USATF Virtual Fall Masters Challenge Registration Instructions
USA Track & Field (USATF), in conjunction with AthleticNET, is excited to announce the USATF Masters Virtual Fall Challenge on October 19-November 16, 2020. The goal is to provide Masters athletes ages 25+ the opportunity to experience competition in spite of the global pandemic altering the originally-scheduled summer season.
This document is a set of instructions that will guide you through every step of the process of registering for and competing in the USATF Masters Virtual Fall Challenge.
There are several distinct steps involved in registering for and competing in an Athletic.net virtual meet. In brief, they are as follows. (You can click/tap on each bullet to jump to the relevant set of instructions.)
All images in this article may be viewed in a larger size by clicking/tapping on the image itself.
Create an Athletic.net Account
From either a desktop or mobile web browser, go to the main Athletic.net homepage (www.athletic.net), and select Create Free Account.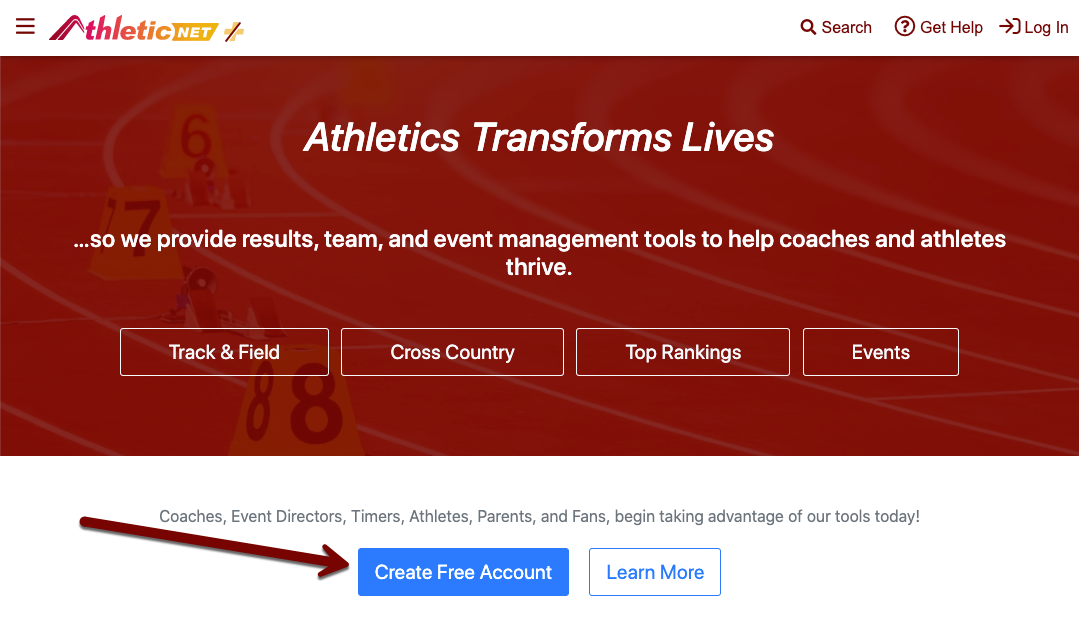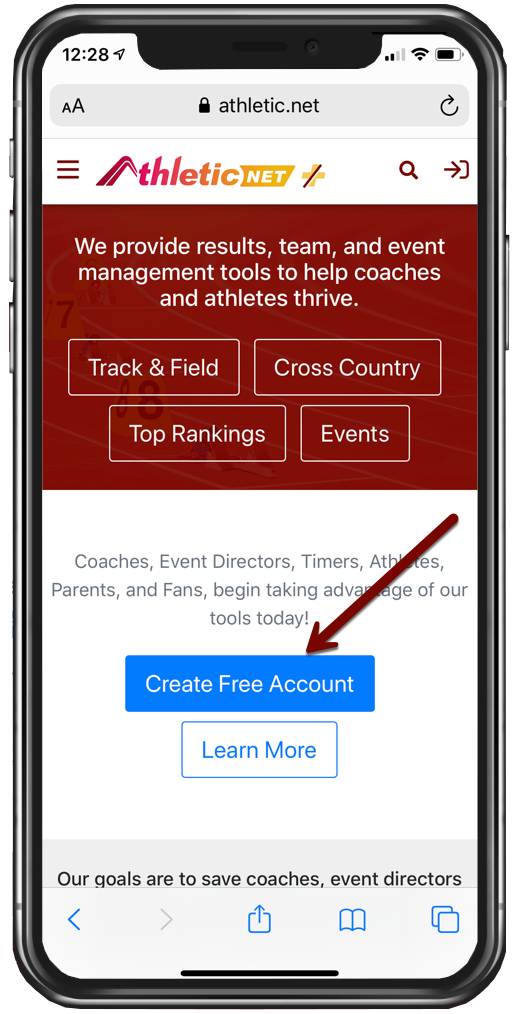 On the next page, enter the required information. Complete all form fields. Ensure you enter your date of birth correctly, since this will be used to calculate your age group for events you take part in.
Unless your coach has provided you with a team code, ignore the Do you have a team code? prompt.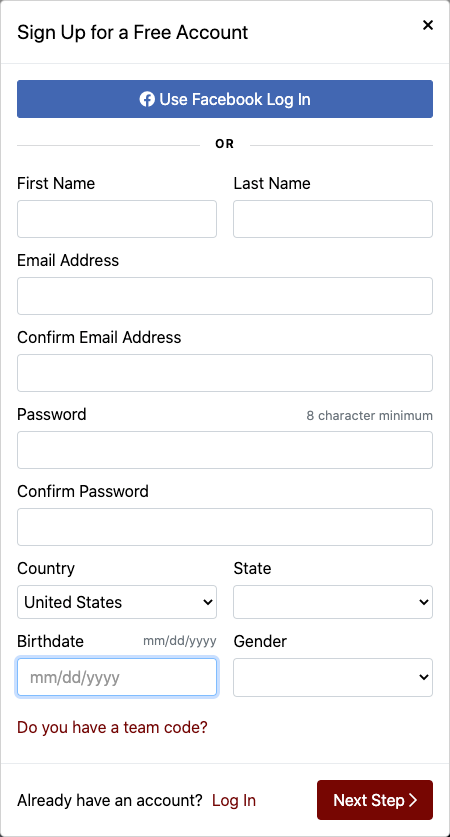 Once you've entered the required information, click/tap on Next Step . On the following screen, you'll be asked to connect to your stats on Athletic.net. If you've ever competed in a meet that's listed on Athletic.net, your name may be shown here. If you see your name, and the details are correct, click on it. Otherwise, choose I'm Not Listed to continue.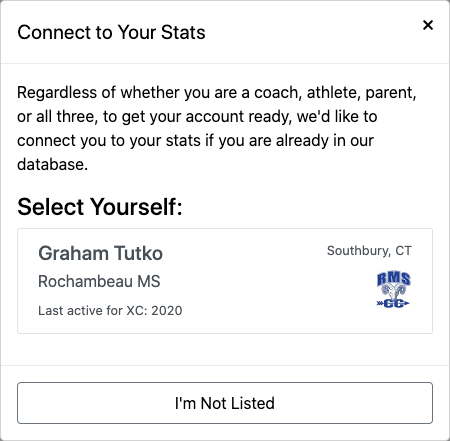 Next, you'll be asked what your role is. Choose Athlete to ensure you can compete in the events you're registering for, and then choose Next .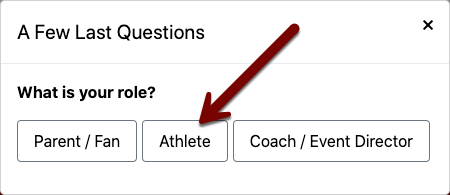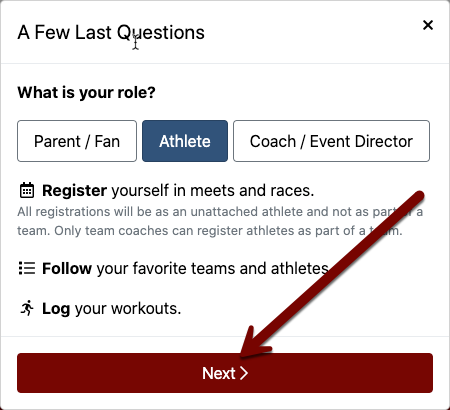 If you receive the warning shown above indicating that registrations will be as an unattached athlete only, don't worry. We can address this later on in the registration process.
On the next screen, you'll be asked to check boxes for any applicable interests you have, which will allow us to provide you with more applicable content. When you're done, scroll all the way to the bottom and click Create Free Account .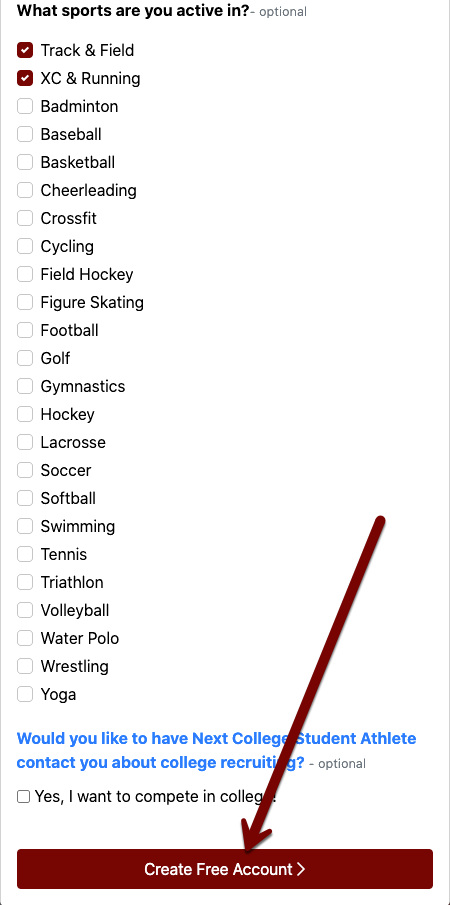 On the final screen, choose Maybe Later. For now, we'll stick with a free account. If you want to upgrade to Athletic+ later, it's easy to do so.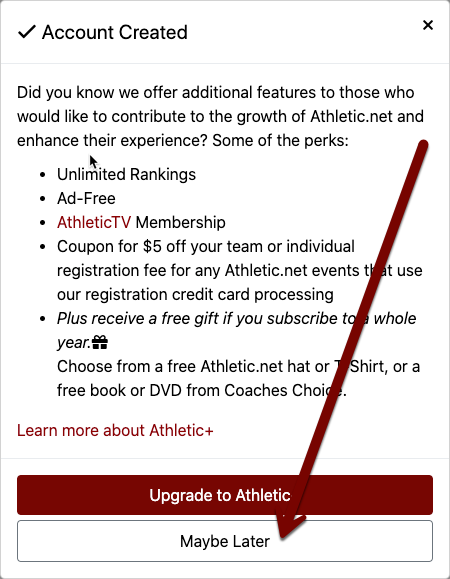 After this, you'll be taken to your new Athletic.net Dashboard, and you're ready for the next section of this tutorial!
Enter Your USATF Membership ID
In order to compete in a USATF event, you must be a USATF member. Attaching your USATF membership ID to your Athletic.net profile accomplishes this in a few quick steps. From any Athletic.net page, choose the menu icon () from the top left corner.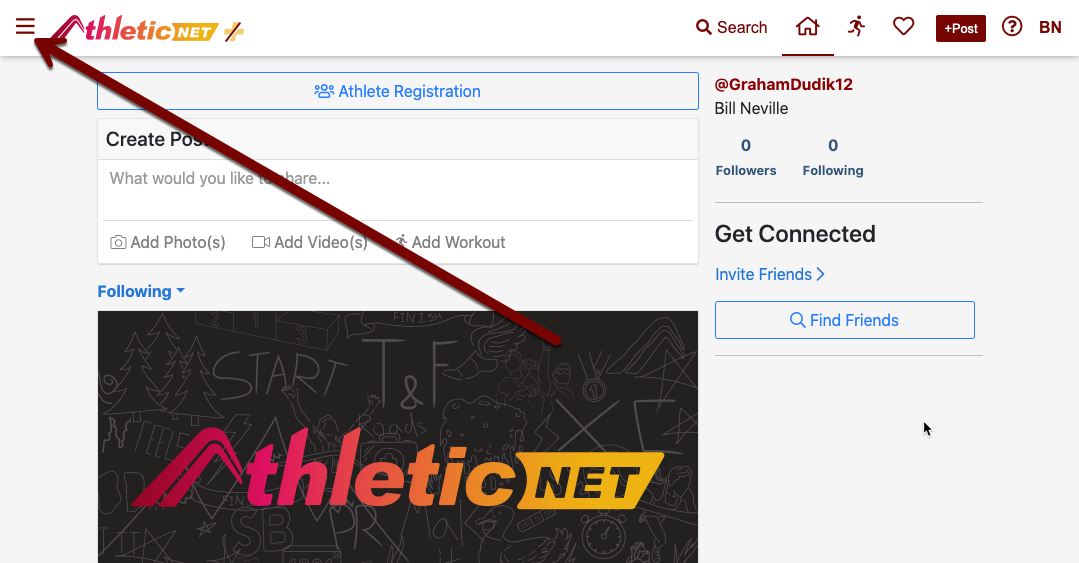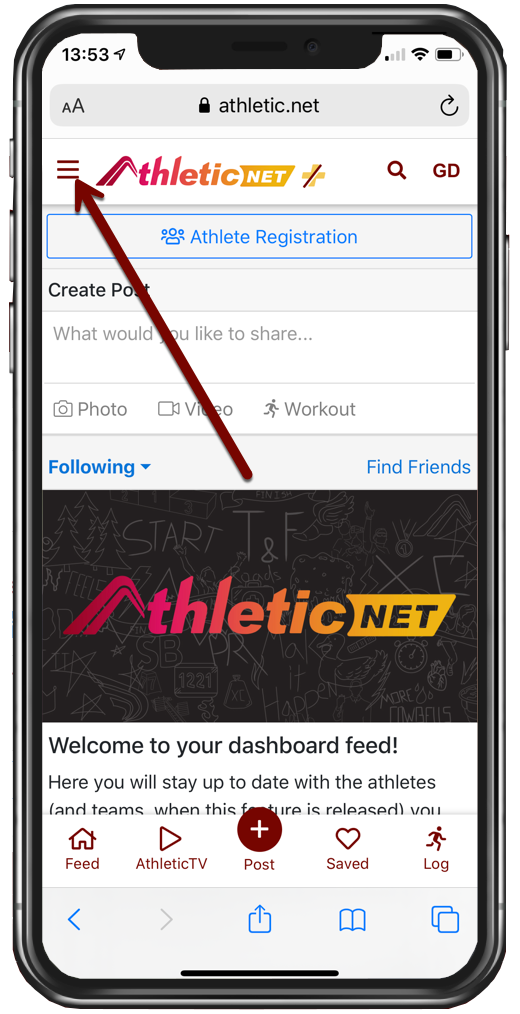 From the menu that appears, choose  Myself under Athlete Registration.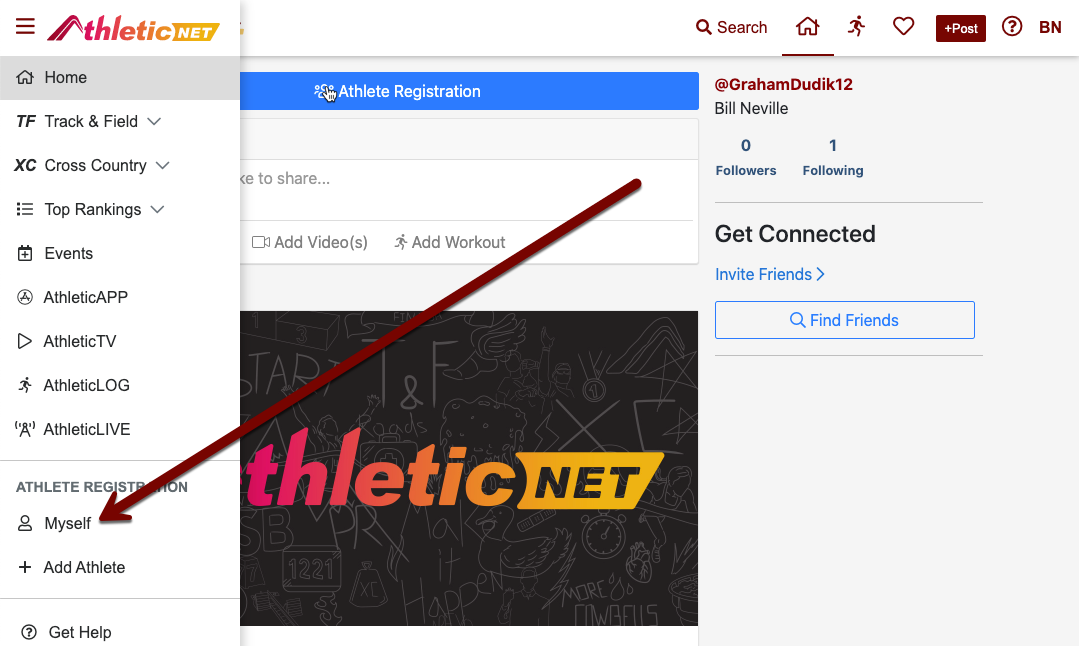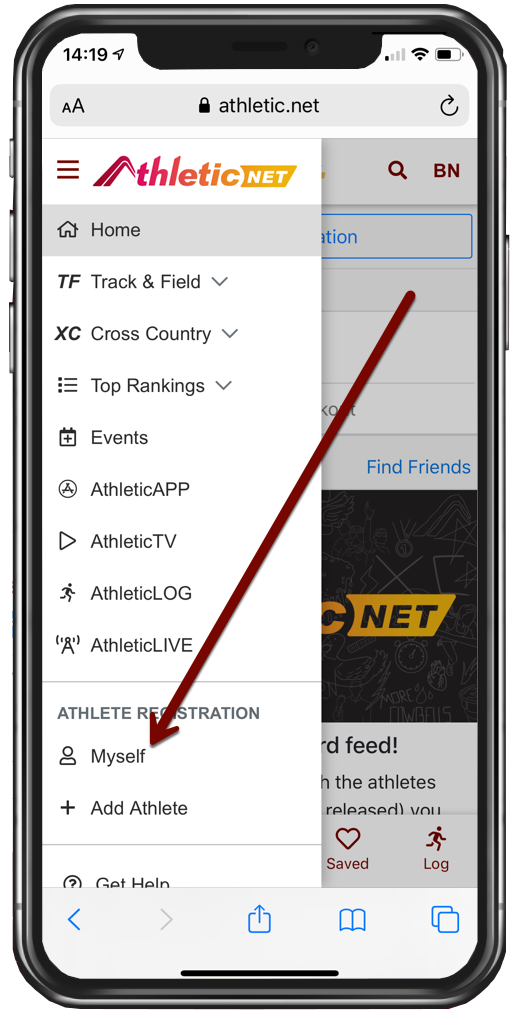 On the page that appears, choose
Add USATF ID
.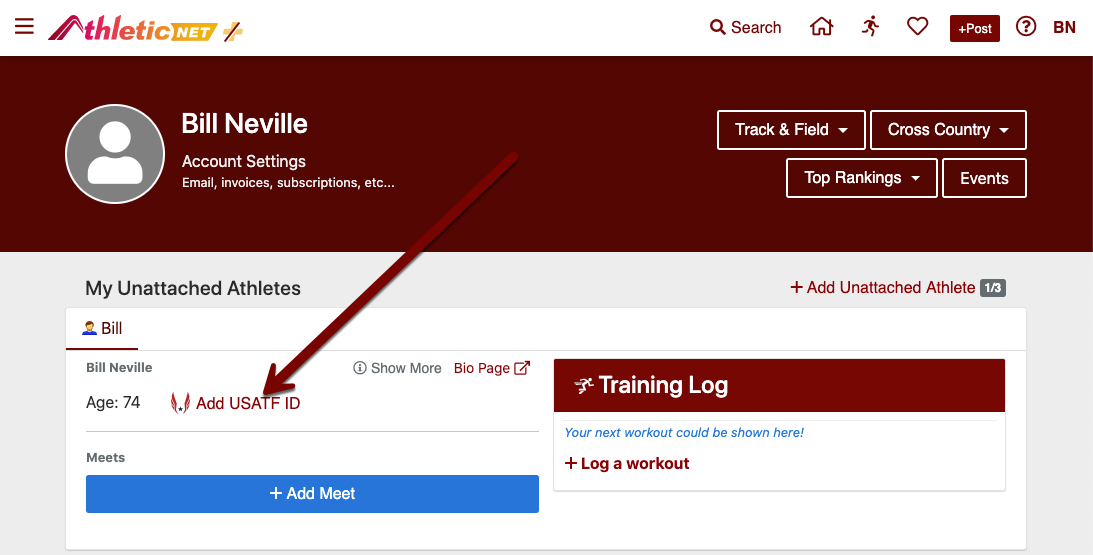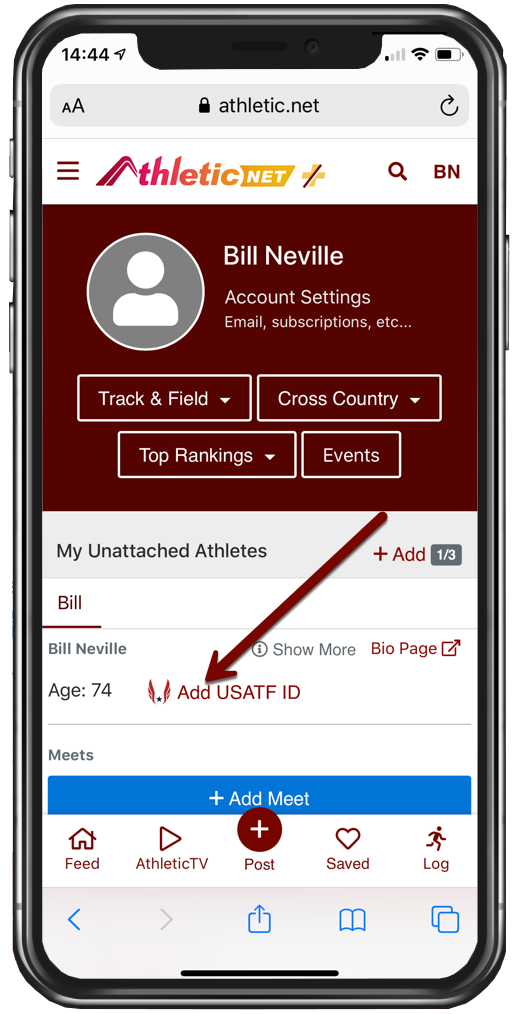 In the window that pops up, enter your USATF Membership ID number as provided by USATF, and then click  Add.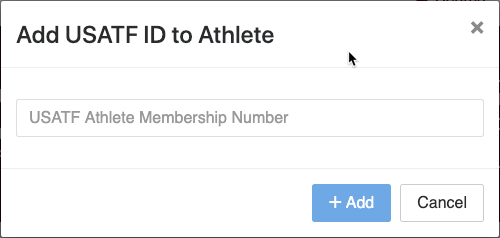 Select Events, Register for Events, and Pay Your Entry Fee
Add the Meet to Your Calendar
Next, we need to add the meet to your calendar so that you can register for it. From the previous screen, choose  Add Meet.
If you navigated away from this page, you can follow
this link
to go straight to the registration page for the meet. From there choose
Add meet to your Calendar
, and then click
Register
. Then head down to the next section.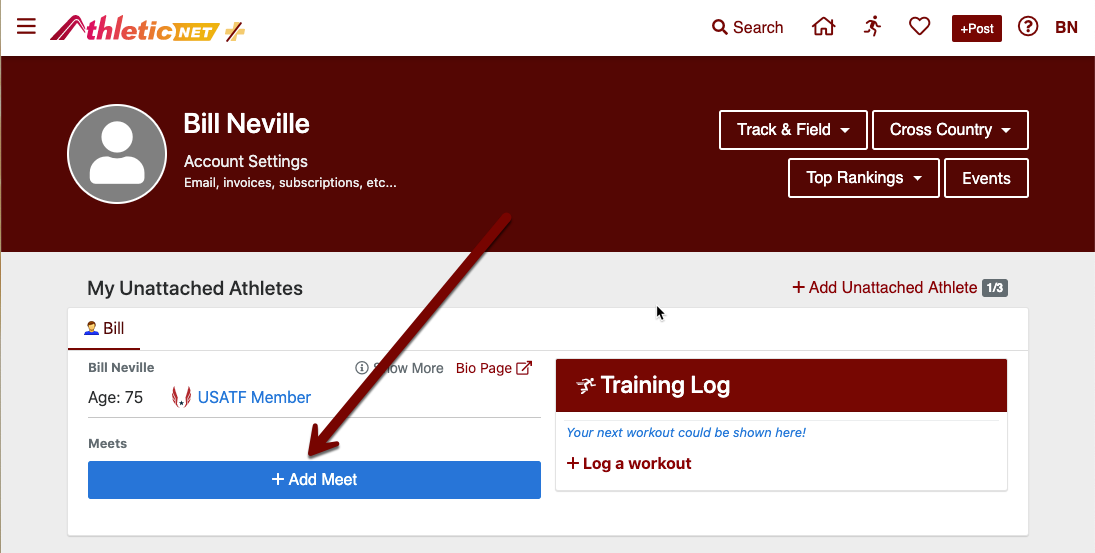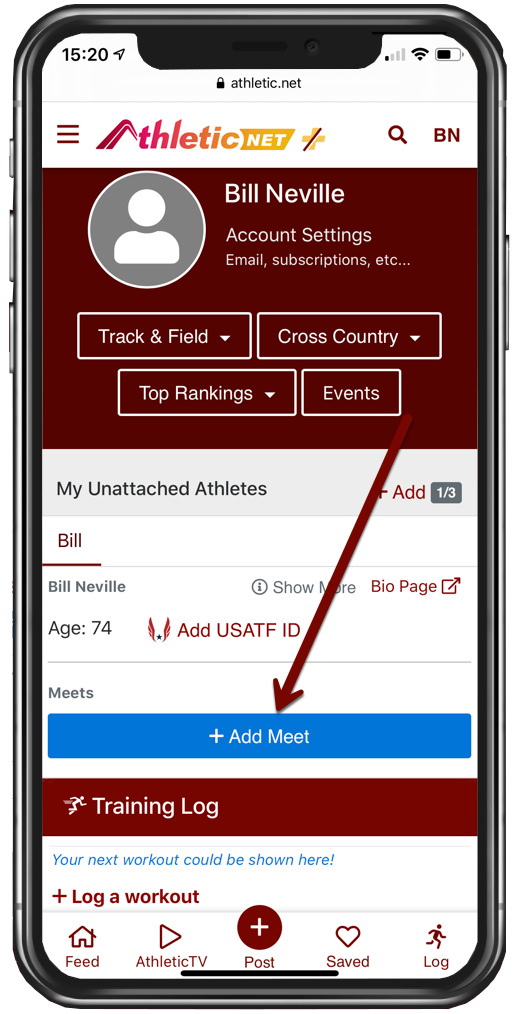 To find the USATF Masters Virtual Fall Challenge, select October 19th from the calendar displayed. This is the first day of the meet.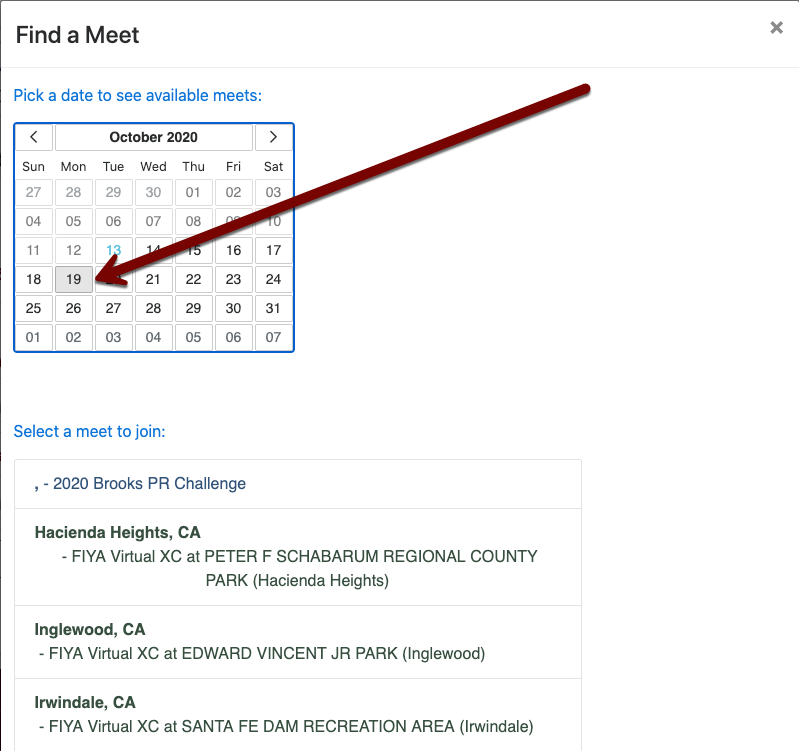 Once October 19th is selected, you'll see a listing for the USATF Masters Fall Virtual Challenge. You may need to scroll down to find the listing. Select it to add it to your calendar.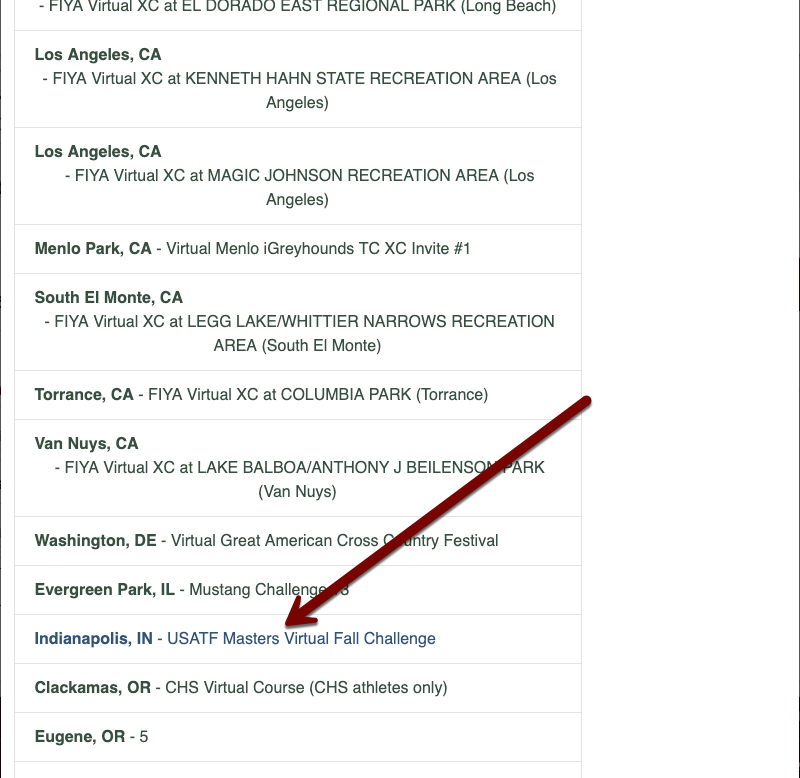 Once the meet is added to your calendar, choose Register .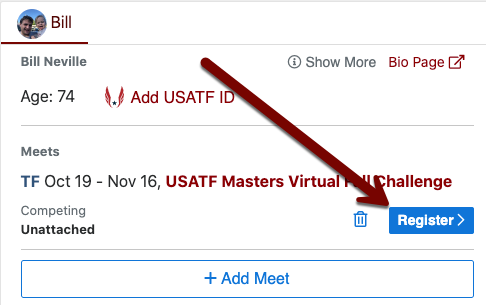 Sign the Waiver
On the next screen, you'll need to sign the participation wavier. Check the box, and then click Continue.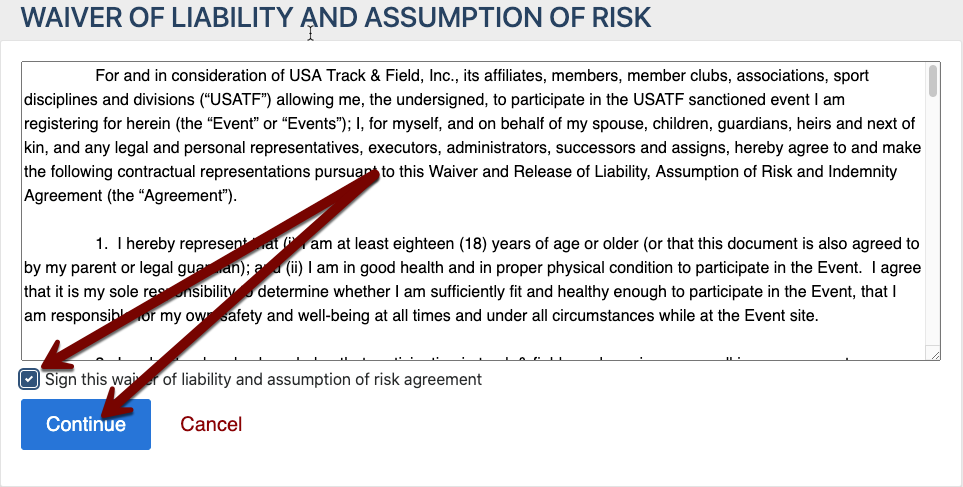 Choose Attached or Unattached
Scroll down past the welcome message and registration instructions. Use the drop down menu under Competing for to choose whether you will compete as attached or unattached. The USATF club your membership ID is associated with will be displayed, or you may choose Unattached.
It may take up to one hour after you enter your USATF Membership ID for the system to display your club as an option. If you entered your USATF Membership ID as described above and do not see your club, return after one hour and refresh the page.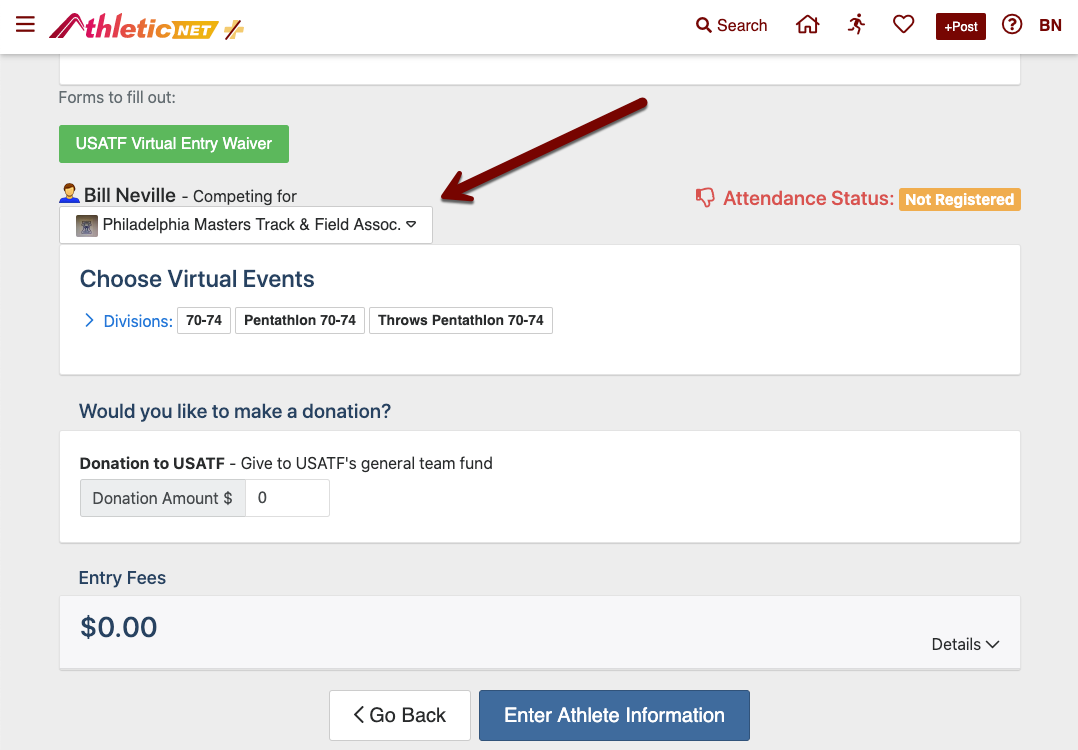 Select Your Events
The system will automatically select the correct age group for you based on your date of birth and USATF Membership ID number.
Your age group is based on your USATF age, which is the age you will turn by the first day of this meet. Your age group might then be different than what your actual age is.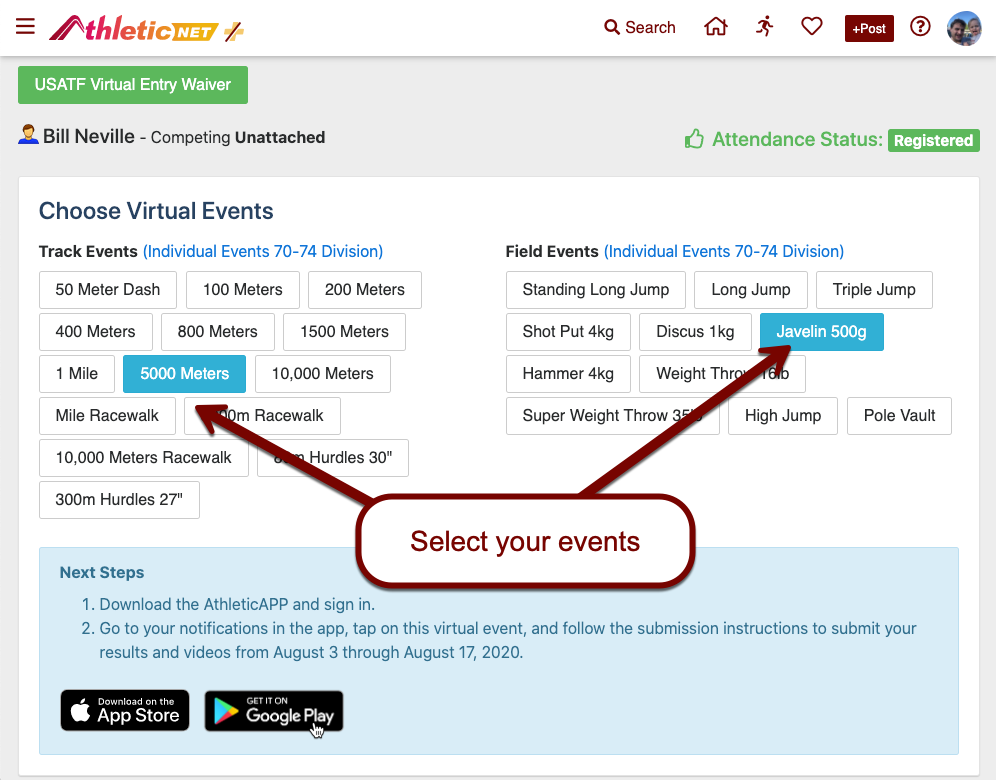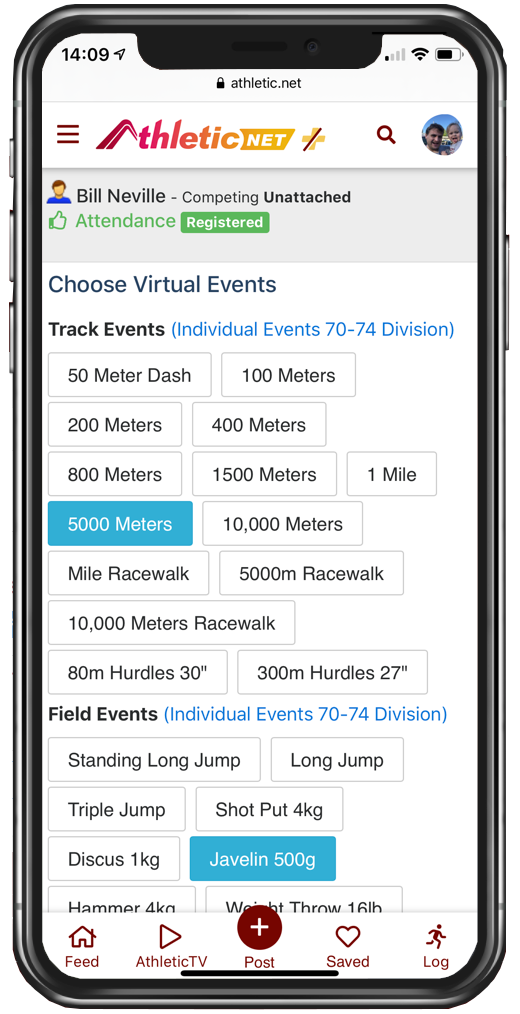 If you are participating in the Pentathlon or Throws Pentathlon, select all five events that consist of your chosen multi-event. At the conclusion of the event, your five results will be calculated and pentathlon scores will be posted.
Pay the Entry Fee
Once you have selected your events, scroll down to the Entry Fees heading. The balance due will appear. Select  Pay Now.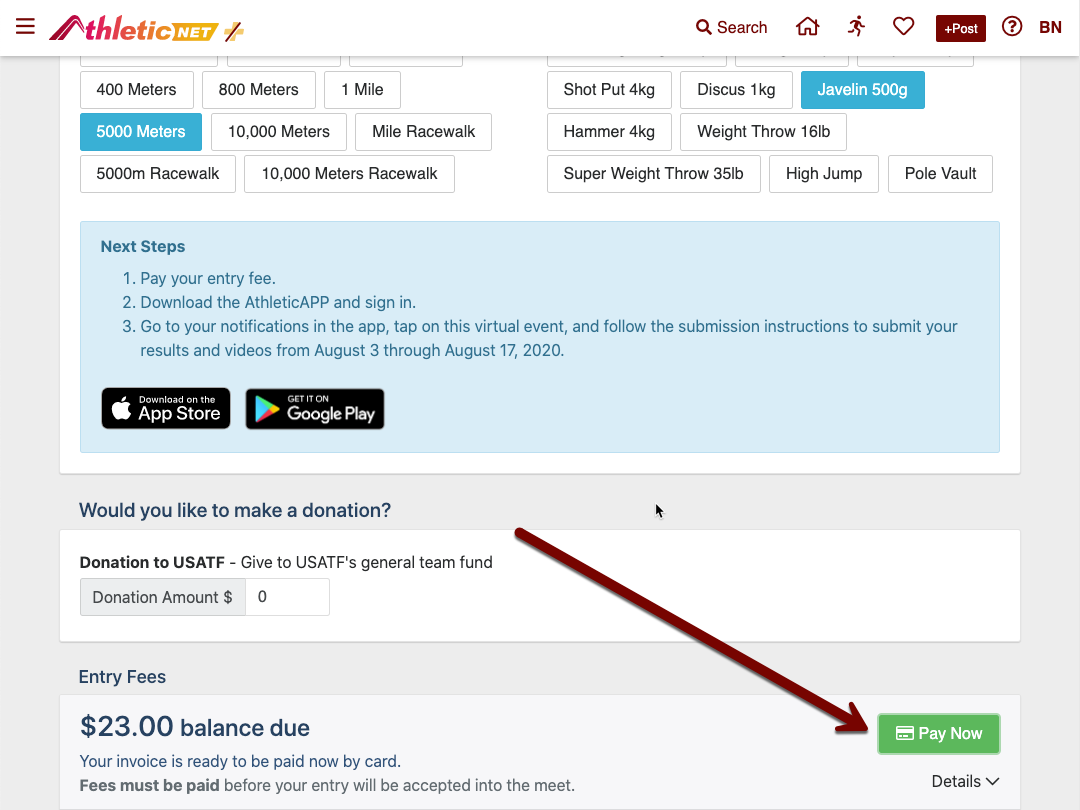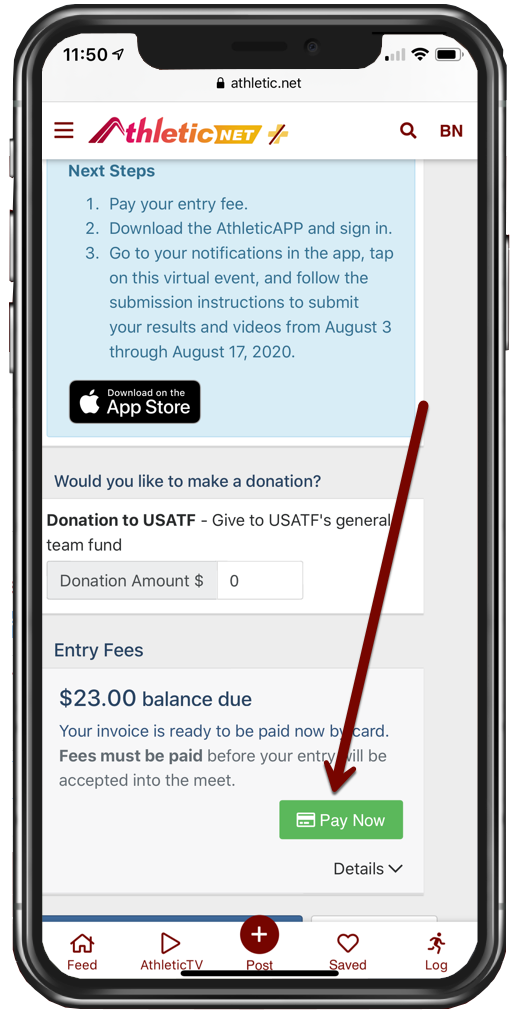 You may be prompted to confirm that you have read any applicable waivers, and you may be asked to re-enter your email address. After those two screens, you'll land on the payment information screen.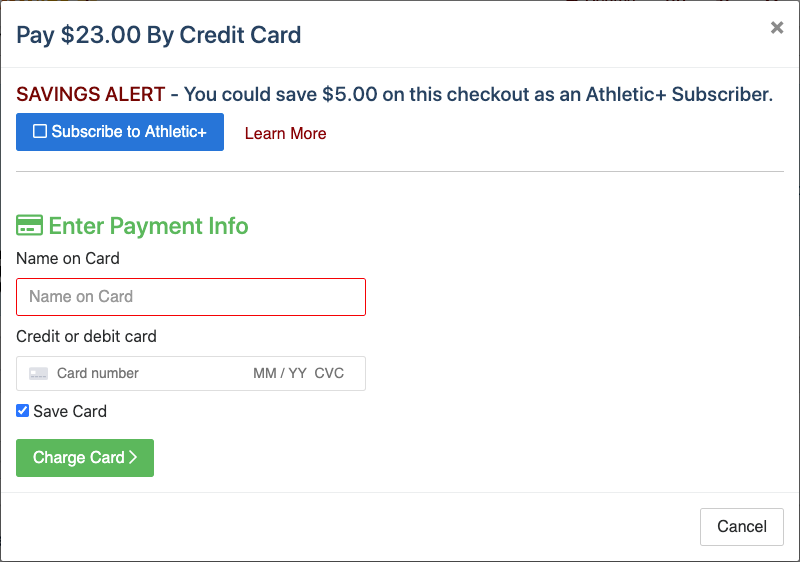 Enter the name on the credit card, the card number, expiration date, and 3-digit security code, and then select Charge Card . You will receive an email with a receipt.
Download AthleticAPP
Now that you've completed your registration, you'll need to download and install AthleticAPP on a mobile device. AthleticAPP is available for iOS and Android devices, and is the platform for recording and submitting results for Athletic.net Virtual Meets.
Follow one of the following links to install AthleticAPP on your mobile devices, or search for AthleticAPP in your mobile device's app store. Learn more about AthleticAPP here.
Use AthleticAPP to Record and Submit Your Results
To submit results for virtual events, you'll record evidence of your attempts with your mobile device. Once you've downloaded AthleticAPP onto your mobile device, open the app, and choose
Sign in with Email
.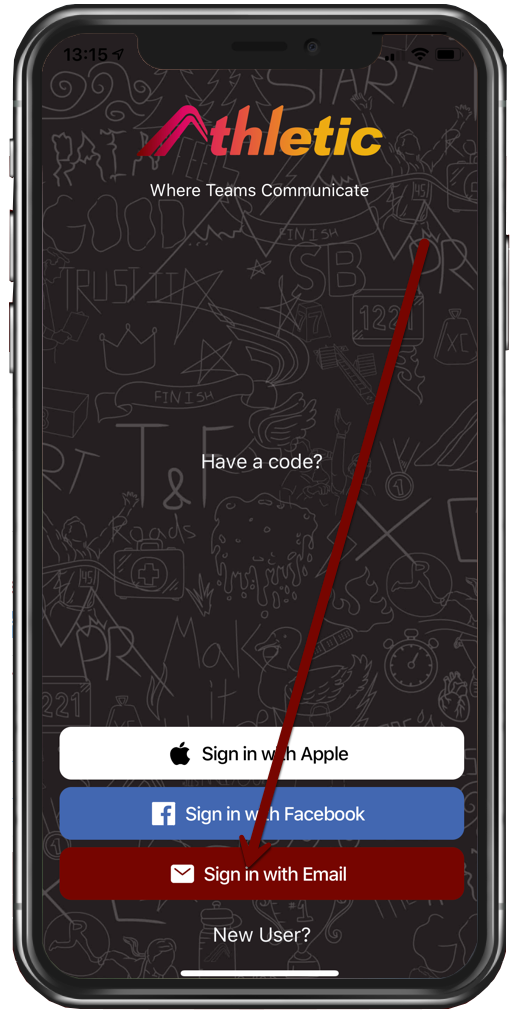 Enter the email address and password you used earlier when creating your Athletic.net account, and tap
Log In
.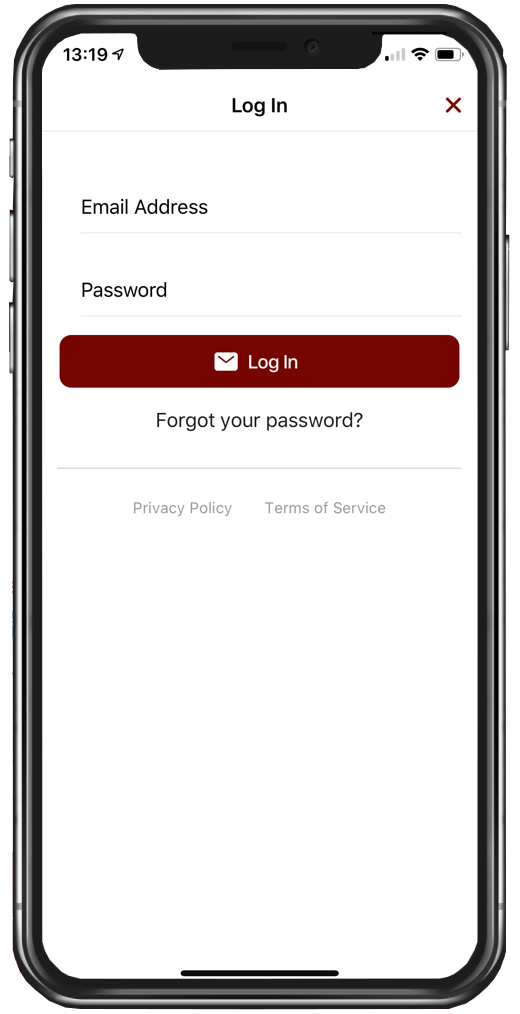 From the AthleticAPP home screen, select the Notifications ( ) icon.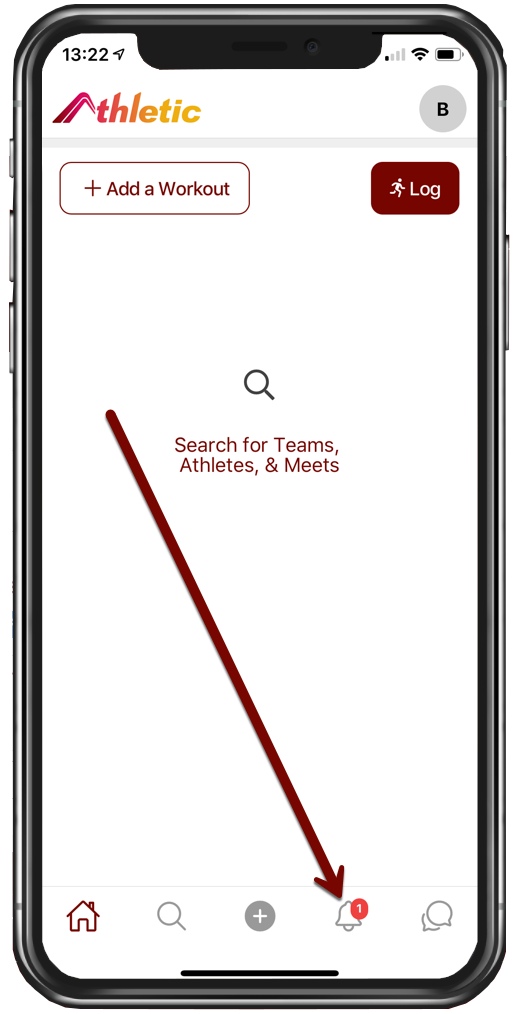 The Notifications screen shows all virtual events you are currently registered in. Tap the USATF Masters Virtual Fall Challenge to select the meet.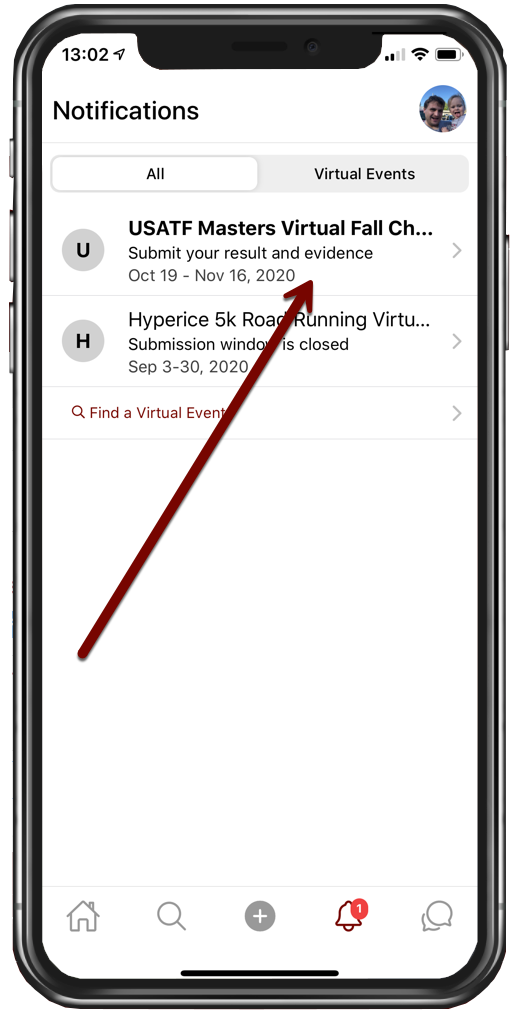 On the screen that appears, you will see the events you registered for. Additionally, there's a link to the event page, which will allow you to edit your registration if necessary.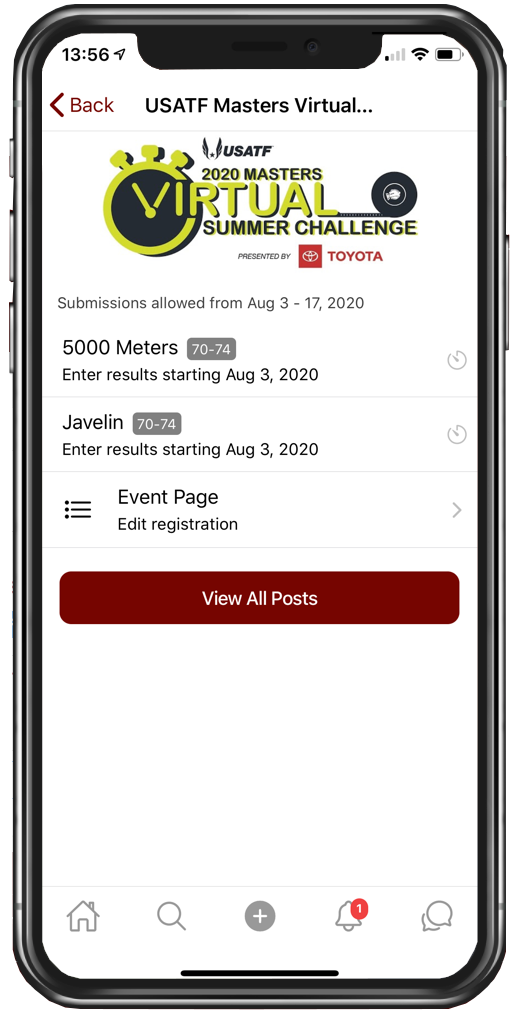 If you see the clock icon ( ) on an event listing (as is shown above), you may not submit a result because you are outside the submission window. The submission window (the date range during which you may submit a result) is shown at the top of the screen.
To submit a result, tap on the required event. On this screen, you will be prompted to enter your result for the event. Additionally, you will be presented with options to upload a picture, a video, or to record a run.
The following is a brief description of how to record and submit results for virtual events. Please visit the
USATF Masters Virtual Fall Challenge event page
for a more extensive description, examples of acceptable videos and photos, and answers to commonly asked questions.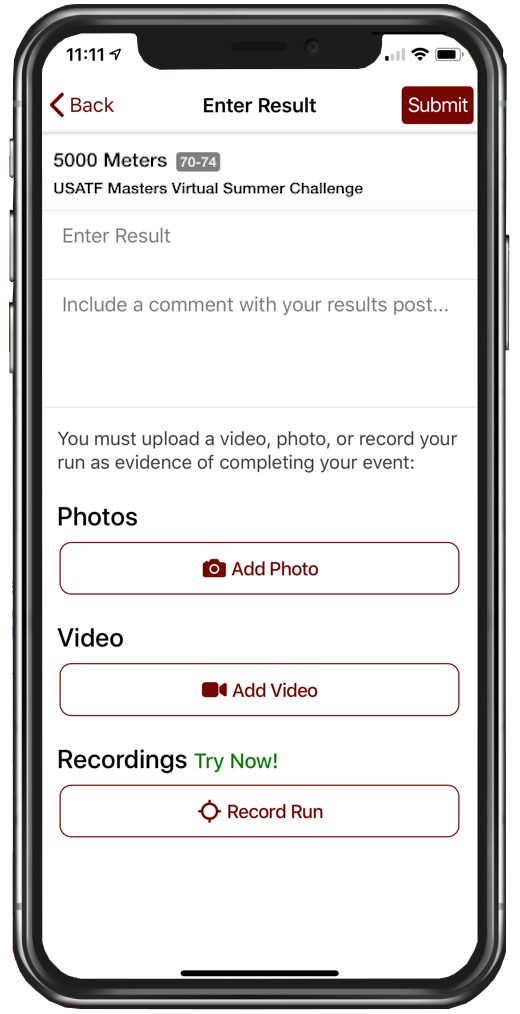 On this screen, you'll need to enter your result in the field provided, and a comment on your result, if you so desire. You'll then need to submit evidence of your mark as described here:
For the USATF Masters Virtual Fall Challenge, any of the following is acceptable evidence of a mark:
A video of the attempt recorded with your mobile device. Use the

Add Video

button to either record a video or submit a previously recorded video on your device. Note: Not recommended for events longer than one mile.
A photo documenting your effort. Use the

Add Photo

button to take a photo or submit a photo already on your device. Photos could include:

A photo of your effort
A screenshot of a result from another meet that takes place during the submission window
A screenshot of a GPS device showing both distance and time

Use the AthleticAPP

Record Run

feature.
Once you enter your result and provide evidence as described here, tap Submit at the top right of the screen.
---
How helpful was this article?
---