Add Yourself as Host/Add a Co-Host
Who can be a Host?
Any team or event manager can be an event host. A host is typically responsible for the organization of the event, setting up registration, schedules, etc.
If you're going to host a meet using Athletic.net, we highly recommend that the hosting team has a

Team Site Supporter
account. While basic functionality is available for those teams with free accounts, many of the advanced features are only available to Team Site Supporters. Throughout this guide, features only available to Team Site Supporters will be marked with the Site Supporter Icon (

). For more information, see the
Site Supporter Features
section.
Create an Event as a Host
When creating a New Event, set yourself as Host. See Creating a Track & Field Meet #1: Introduction for more information on creating a meet from scratch.
Add Yourself as Host to a Host-less Meet
There are times when a meet is created that no host has claimed. For example, a league or team filling out schedules prior to the season could create several meets to complete their calendar, but if the team in question is not the host, the meet remains host-less. As long as no host has claimed a meet, there are two ways to add your team as the host.
Option 1 - Find a meet
Add a meet to your team calendar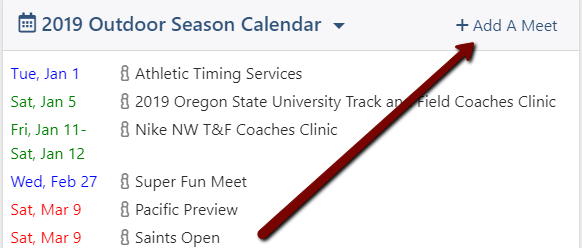 Search for the meet by name, date, and location. If you click  Create New Event, Athletic.net will search for any meets that have similar locations, dates, and names, as a way to prevent Duplicate Meets from being created. Once you find your meet on the list, click the meet name to expand.

Click  Set [Your Team] as Host.

A warning window will pop-up. Click OK to confirm that you are hosting.

All set! The meet has been added to your calendar and with as the host.
Option 2 - Select a Meet on the Calendar
If the meet is already on your team calendar, click on the meet name to expand, then click the  icon.

Select Yes.

Scroll to the bottom of the section, and click Save.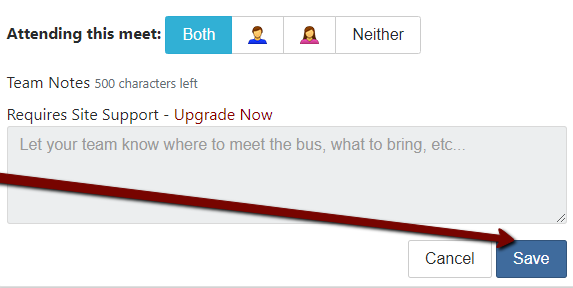 Remove Yourself as Host
You can also remove yourself as the host of an event. To do so, find the event on your team calendar. Click on the name to expand, then click the  icon.

Select No.

Scroll to the bottom of the section, and click Save.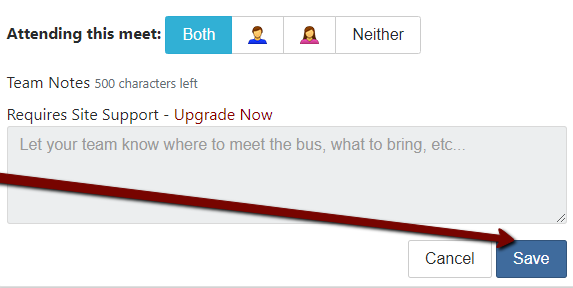  If you are a Team Site Supporter, removing yourself as a meet host will automatically transfer the meet ownership to the co-host. If no co-hosts are Team Site Supporters, this warning message will appear: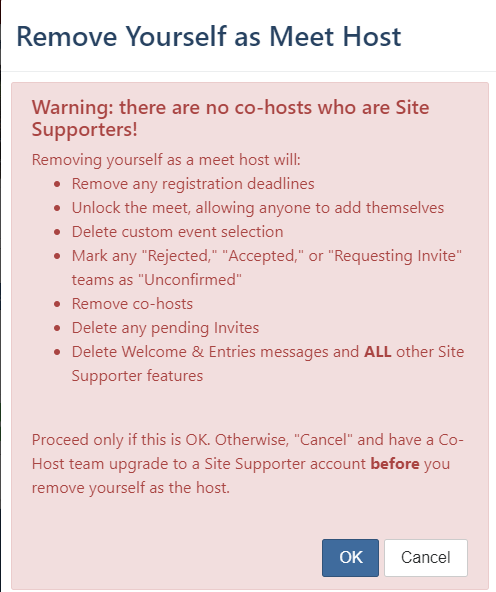 Add a Co-Host

Assigning another team or event manager as a co-host will enable them to access the
 Manage Meet
page. Co-hosts do not need to be Team Supporters; however, only Team Site Supporter co-hosts will be able to manage any Team Site Supporter-specific features on the
 Manage Meet
page (e.g., email, invitations, and deadlines). See
Team Site Supporter Features and Benefits
for more information.
From the  Manage Meet page, click the Attendance status ( Confirmed in this case) of the Team/EM you wish to make Co-Host.

A drop-down menu will appear with the options to  Unconfirm,  Reject, or  Set as Co-Host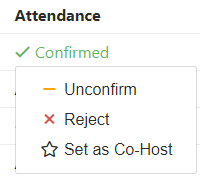 A window will pop-up to confirm the designation as  Co-host. Click  Co-host, then click Done.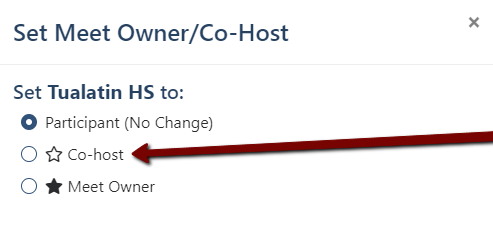 If you select  Meet Owner, this will set the existing meet owner as Co-host. The only way to undo this is for the New Meet Owner to make you the Meet Owner again. Only Team Site Supporters can change meet ownership this way.
Now you will see a  next to the team that is now Co-host. Click on the  to change the Co-host designation.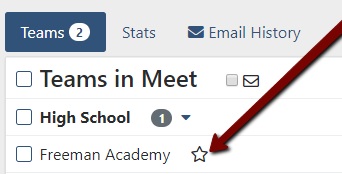 Wrong Team is Host
If the wrong team is listed as the Meet Host/Owner and contacting the team is unsuccessful, please use the Get Help link at the top of the meet page to contact us.
---
How helpful was this article?
---