Features For Coaches
Simple Pricing, Powerful Coaching Tools
Join thousands of coaches using Athletic.net to save time
Team Supporter
Everything from FREE Forever, plus:
Advanced Event Hosting Features
Live Results, Entry Fee Collection and much more!
Unlimited State Rankings for All Coaches,
Unlimited National Rankings for 2 Coaches / Season
$135 / Season
---
Our goal is to help you manage all your team's information in one place.
Team Information Management
Easily Organize Rosters, Calendars, Fees, and News
Team Roster
Keep Track of Vital Info
Maintain your team roster year to year, pulling in athletes from past seasons and linked teams. Track basic bio info, as well as detailed info about your athletes. You can even customize what data you store to help keep track of what's important to you. Learn About Roster Features
---
Team Communication
Chat with athletes and parents
Use AthleticAPP as a safe, central location for you to connect with your athletes, coaches and parents. You can create one-on-one or group conversations to discuss upcoming events, workouts, and more. More About Conversations
AthleticAPP also lets you post team news, updates, practice and meet information to either private or public-facing team feeds. Use this to make announcements to help keep your team on the same page. More About Posting to Your Team's Feed
---
Team Calendar
A Complete List of Season Meets & Events
As you add meets to your team calendar, a publicly available season calendar is automatically compiled for you and displayed on your team's homepage. Any time you create a meet, accept a meet request, or join a meet someone else is hosting, the meet will be listed on your season calendar.
Furthermore, you are able to add non-meet events such as a team dinner and give athletes and parents some basic information about the events such as location and meeting time.
For these reasons and more, the team calendar is a great resource to keep your entire team aware of upcoming events.Add a Meet to your Calendar
---
Collect Athlete Fees & Dues
Let athletes & parents easily pay online
Coaches can charge for participation fees, equipment costs, team trips, and more. Add contact information for each athlete and invoices will be automatically sent out. We accept debit and credit cards, allowing us to easily keep track of payments, saving coaches much time and effort. Also, if some team members still want to pay by check, the payment can be recorded manually in our system, allowing coaches to keep track of online and in-person payments simultaneously using one system. More about collecting fees
---
Receive Team Donations
Fundraise toward your team goals!
Coaches can use our convenient online payment platform to raise money for new equipment, travel expenses, and more! Create fundraising goals, spread awareness, and watch funds come in as your support base gets behind your dreams. Learn how to collect team donations
---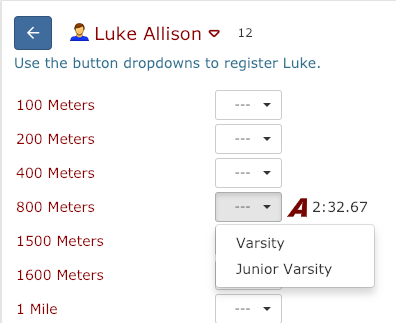 Online Meet Registration
Easily register athletes for the meets on your calendar.
Once your team's roster is in place and you have selected meets to attend this season, you can begin registering athletes to compete in events.
In addition to collecting entries online, meet hosts who choose to use advanced features have a variety of tools at their disposal to make the meet registration process easy for everyone. For example, they can accept entry fee payments online and send quick email updates to all attending coaches. See how easy it is to register your athletes with Athletic.net
Team Reports
Keep Ongoing Records of Your Team's History
Basic Team Reports
Team Records & Season Records
View season records by event, by athlete, by grade, or whole team, as well as complete team records.
---
Advanced Team Reports
Chart Athlete Progress
Site Supporters gain access to additional team reports that allow you to observe the progress and growth of each of your athletes throughout each event of the season.
---
Custom Performance Lists
Compare what you are interested in
Custom athlete, meet and team performance lists allow you to select the specific stats that you are interested in viewing and comparing. For example, you can view all performances by the winners of last year's state meet or a history of your annual meet across the years. Maybe you want to rank your team against your cross town rival, even though they are in different divisions. Custom performance lists are available to teams with a Site Supporter account.
---
Unlimited Storage of Stats
Athletic.net provides free, unlimited storage.
Team Updates
Share Information and Photos With Your Team
Team News
Keep everyone on the same page
In addition to the invaluable calendar tool, Site Supporter teams can also post team news, and "blog" type posts sharing important information with the team. Some teams use this feature to post details about the upcoming season and others use it to share stories of past successes.
---
Photos
Photos on Team Homepage
Visitors to a Site Supporter's team page will be greeted with photos chosen by the coaches. Athletes love seeing their photos from recent performances posted on the team page! As well, coaches can post a cover photo for their team!
Post Results
Quickly Share Results With One Simple Upload
---
Official Results
Accurate and Complete
Uploaded results are reviewed to ensure accuracy and are then marked Official. This stamp of approval lets everyone know these results are complete and will be used to automatically provide seeds for future competitions. See what Official results are verified to include
Training Logs
Coach Integration Tools
Assign Workouts
Keep the entire team on the same page
Coaches can easily assign workouts to their athletes and keep track of progress. This is just one more tool we provide to help coaches track, sort, and share team data. See how simple assigning workouts to your team can be!
---
Mobile Friendly
Record and/or assign workouts from anywhere
Built with mobile devices in mind, the training log allows coaches to assign workouts from pretty much anywhere, as well as chart or check their progress.
Athletes can view assigned workouts, record them, and mark them as completed, all from within AthleticAPP. Learn more about AthleticAPP
---
We've Got Your Back
Have questions? We have answers.
In the menu on every page, you can find a link to contact us via our feedback form. Be sure to use the link from the page that you're having trouble with. This will enable us to get a lot more information about your situation. We will then reply as soon as possible, giving you an answer to your question.
"I'll repeat that Athletic.net has been so fantastic! One of the many great features is that you are very prompt and extremely helpful with the feedback form."
Vivian Stanley, Meet Director, Vacaville, CA
---
Priority Email Support
Want quick answers?
As a Site Supporter, you'll receive priority support from our email response specialists.
---
---
How helpful was this article?
---